Are you doing Dry January this year? If you are, keep at it; you're almost there. And it's never too late to start (even if it is closer to February).
Dry January started in the UK in 2013 as a government-led campaign to help people minimize their alcohol consumption. And while it might feel counterintuitive to abstain during the darkest, most depressing month of the year, you're actually likely to discover some genuine unexpected benefits.
This article is about the benefits of abstention, exploring some of the ways you can trick yourself into feeling like you're having a drink, and how to wean yourself back to the booze when it's all over.
It's never too late to start
December is usually the booziest month of the year for most of us. There's the get-togethers, the parties, and the impromptu nights out. And while it all feels like lots of fun, most of us start to feel the effects of overdrinking at the waistline way before we develop psoriasis of the liver.
Alcohol is super-high in calories.
Think about it:
A bottle of wine generally provides five 5oz glasses of wine.
One 5oz glass of wine is typically around 120 calories.
If you go for a 6oz glass, that's 150 calories.
A regular Snickers bar contains 280 calories – that's around two 6oz glasses of white wine.
If you drink an entire bottle of wine (let's face it, we could all do that of an evening!), that's 605 calories. Or just over two Snickers bars.
Red wine is roughly the same but can be slightly higher in calories than white wine.
How about beer?
A standard bottle of Budweiser (5% ABV) has 145 calories, so two Buds is one Snickers.
Think about how easy it is to sink a Bud – over the evening, it's entirely possible to sink four, five, maybe six. That's three or four Snickers in an evening.
Would you really dream of eating four Snickers in one evening?
Bud Light (4.2% ABV) is marketed as the lower-calorie alternative, but a standard bottle is still 110 calories, so it's hardly low in calories.
Alcohol offers empty calories
Perhaps you can see how it becomes easy to rack up the calories when drinking alcohol.
So, while you might eat a relatively conservative diet, it's often the drinking that sends you over your daily recommended calories.
As we continue to drink, the waistline is likely to suffer.
The benefits of abstaining
Americans spend more than $40 billion a year on diets and diet-related products. And – at any one time – approximately 45% of American women (and 25% of American men) consider themselves to be dieting.
But there's no point in minimizing your calorific intake for food if you're not watching what you drink because booze calories are considered "empty calories." That means that they're calories that lack vitamins, minerals, and good carbs that fuel and benefit your body.
So, how to drink without "drinking"
If you've never attempted a dry period, the prospect might feel a little daunting. But, actually, it's easy to get out of the habit of drinking. We associate an alcoholic drink with relaxation and pleasure – and it's a fool who thinks that a glass of water will provide that same hit of calm.
An alcohol fast is as much a frame of mind as anything else.
Changing how you view alcohol
The first time I tried Dry January, I found I craved a drink just because I knew that it was "forbidden." And if I let myself cave in and go for a glass of wine or a beer, I found that – after the initial "treat" – the enjoyment was minimal.
I realized that drinking is a subtle way of constantly self-medicating: helping unwind at the end of the day or getting into the party spirit on a night out. The "experience" of drinking has diminishing returns – the more you drink, the less you appreciate the buzz. And the headache, tiredness, and low mood that follows the next day are NEVER really worth it.
So, I realized that alcohol provides little of the benefits we perceive it to offer. And that constant self-medication leads to weight gain (diminishing the efficacy of ALL diet attempts) and a lack of inhibition that sometimes gets you into trouble!
How not to go alcohol-free (and not miss it)
So, don't approach your January (or February) alcohol fast as a challenge – view it as an opportunity to learn.
But – most importantly – avoid just sipping on a glass of water (unless it feels good).
Trying alcohol-free drinks
Alcohol-free beers are plentiful these days. My particular favorites are Brewdog's alcohol-free range. Brewdog is a Scottish company that produces great-tasting craft beers, but they have diversified into quite an extensive and super-tasty alcohol-free range.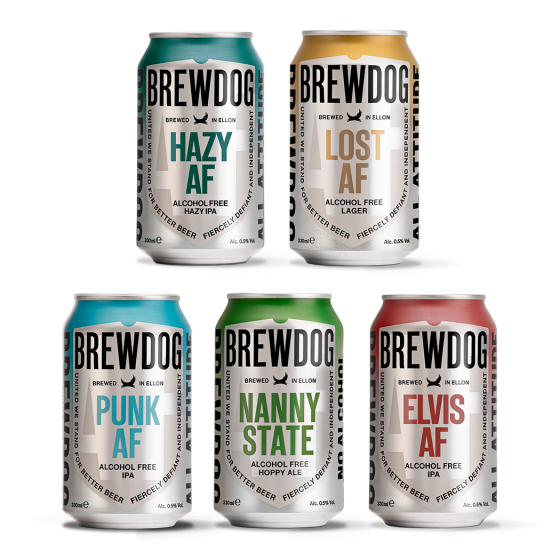 Alcohol-free beer used to taste like liquid cardboard; not anymore. My particular Brewdog favorites are:
Punk AF (50 calories per can, as opposed to 158 calories in Punk IPA – the alcohol equivalent) – hoppy, crisp, refreshing.
Nanny State (20 calories per can) – malty, bitter, warming.
Elvis Juice AF (49 calories) – grapefruity, tangy, zingy.
Hazy AF – (47 calories) – intensely hoppy, refreshing, lively.
I've also found that beers from other manufacturers are just as satisfying (and low in calories), such as Becks Blue (53 calories) and Shipyard Low Tide Pale Ale (75 calories).
Alcohol-free spirits
Alcohol-free beers are easy to turn to when you're minimizing or cutting out alcohol because they're tasty. And – to be honest – it's difficult even to notice the lack of alcohol from the taste.
On the other hand, alcohol-free spirits are a slightly different kettle of fish. And, again, it's a case of refreshing your mindset.
If you look at the reviews of alcohol-free spirits, most people who hate it mention that it doesn't taste anything like its alcoholic counterpart.
But, strictly speaking, that's not altogether true.
Take alcohol-free gins: a mix of delicate botanicals, just like gin. What you get are the delicate herbals, but you don't get that strong alcohol flavor that hits the back of your palate when you first drink it. Lots of people mention that it tastes terrible when they drink it neat – but, again, it's kind of missing the point.
How to enjoy alcohol-free spirits
First and foremost, don't expect an alcohol-free (AF) spirit to taste exactly like the alcoholic version you know and love. If you're a gin lover, buy yourself a jar of juniper berries – they're what gives gin its distinctive flavor.
Mix your alcohol-free spirit with a premium mixer – the best premium tonics and mixers are made by companies like Fever-Tree, Belvoir, and Fentimans. And mix one-third AF spirit to two-thirds spirit, add lots of ice, and a few hand-crushed juniper berries.
Once you get over the fact that it doesn't taste exactly like a gin and tonic, you'll start to appreciate the drink for what it is: a light, refreshing adult drink that embraces the "ceremony" of making an alcoholic drink.
My favorite gin replacements are:
Tanqueray Alcohol-Free 0.00% – the closest you'll get to a real gin experience. In fact, on a recent episode of the UK's Saturday Kitchen, the experts found it difficult to identify which was the non-alcoholic gin from a taste test.
Everleaf Mountain Spirit – not a "gin" as such, Everleaf's range of non-alcoholic spirits are complex, herbal, a little spicy, and a great accompaniment to a premium mixer. You'll forget you're not drinking alcohol really quickly.
Aecorn Bitter – if Aperol Spritz is your fave, then this delicious non-alcoholic spirit is the closest you can get. Full of complex caramel overtones with the distinctive bitterness of Aperol. Great mixed simply with soda water.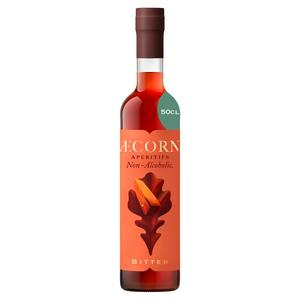 Delightful soft drinks
If you don't have a SodaStream, now's the time to invest because there are many excellent adult-oriented cordials to mix with soda water. We call them "Fizzery" in our house; a little joke that has stuck, but – in all honesty – they're far from miserable alternatives to alcoholic drinks.
Robinson's Crushed Mint & Lime cordial makes a fantastically enjoyable mojito alternative when mixed to taste with soda water and a wedge of lime. 
Belvoir's Ginger cordial mixed with soda water creates a spicy-hot ginger beer that satisfies that "whisky" throat hit.
Mr. Fitzpatrick's Lemon, Cucumber & Mint cordial mixed with soda water is super-refreshing, with a distinctive reminiscence of a summer Pimms.
It's not too late to start
Sure, it's almost the end of January. But once you've discovered your favorite non-alcoholic adult drinks, you're likely to stick with them; at least during the week.
Try going alcohol-free during the week and wake up feeling refreshed rather than hideous, in a good mood rather than fuming, and with a positive mindset for the day ahead.
Try Dry February if you haven't done January. It's never too late to start. Your waistline will thank you for it.