Most of us over-indulge during the holidays. In fact, our calorie intake probably doubles throughout the Christmas festival. I mean, who doesn't enjoy a few boozy treats during the feasting season?
Stodgy puddings, cheese sauces, rich gravies, nuts, potato chips, and endless boxes of chocolates. It's all part and parcel of family get-togethers and binge-watching holiday movies, after all. If you haven't had heartburn at least once throughout the holidays, you're lucky!
So, now it's January; it's time to enjoy a simpler, lighter selection of delicious meals that help us shed those holiday pounds. And while there may be a need to minimize your calories, you're going to be utterly miserable chewing on a dry lettuce leaf.
Lighter meals don't need to leave you hungry, and they definitely shouldn't lack flavor.
Here are two of my favorite light January/February meals that are still full of flavor and tasty enough to provide the comfort you need during the coldest months of the year.
Creamy Mushroom and Zucchini Risotto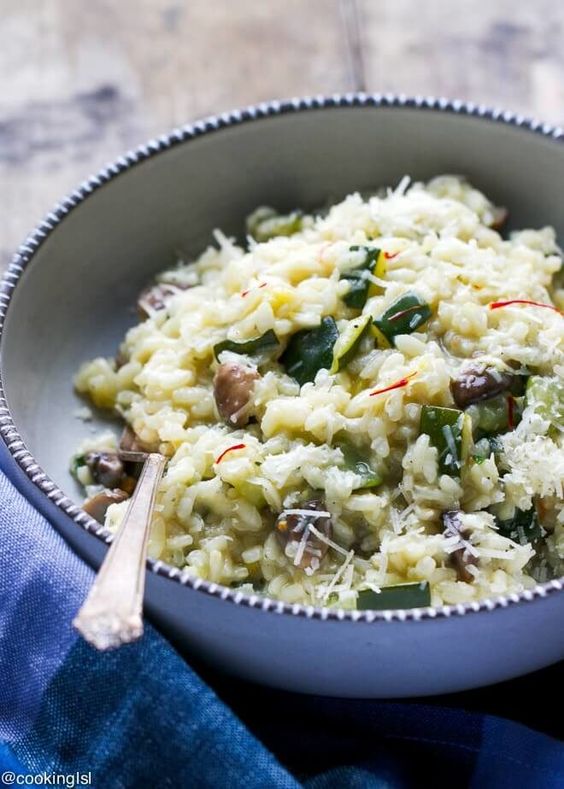 Risotto rice is always satisfying. Filling and warming, risotto is the perfect January treat.
And while you probably haven't ever considered risotto a low-cal meal, you'll find that the creaminess doesn't come from adding fats. Indeed, the creaminess of risotto comes from the starch within the rice.
It's important to continually stir a risotto once you've added the rice, which is what produces the creamy mouthfeel. Purists insist that you stir in just one direction – either clockwise or anti-clockwise, but that might be a little fussy for some.
Mushrooms are the low-cal superheroes of this meal. At just 22 calories in 100g, mushrooms really are the satisfying superfood that January needs! Chestnut mushrooms are just 8 calories per 100g, so add more if you're going for bulk.
I love this meal and would gladly indulge in this delicious treat any time of the year. But it's extra satisfying because this particular meal is only 473 calories per serving.
And it's not a tiny, stingy portion, either – this is a proper-sized plate. And it includes parmesan!
This recipe is for two people – multiply it up or down for more or fewer.
INGREDIENTS
10g olive oil
150g risotto rice
A large onion (130g), finely chopped
1 clove garlic
25g/1 oz zucchini, diced
40g/1.5 oz dried mushrooms, soaked and roughly chopped (soaking liquid reserved)
200g/2 oz field mushrooms, roughly chopped
40g/1.5oz parmesan, grated
1 vegetable stock cube
1-liter/4.25 cups water
Salt and black pepper to taste
METHOD
Mix the stock cube with 1-liter of boiling water and set aside.
Add the olive oil to a heavy pan and heat on a low flame until warm. Add the onions and sauté until they become golden in color. This can take up to 20 mins. Add a little of the mushroom soaking water if they're starting to stick. Add plenty of freshly milled black pepper, but don't add salt until the onions are golden.
Add the field mushrooms and garlic sauté until they're starting to catch at the edges.
Add the zucchini and reconstituted mushrooms, holding back the soaking water. Sauté until they take on a little color.
Now, add the risotto rice to the pan. Stir till each grain of rice is coated and ready to stick to the pan. Add the mushroom soaking water and stir until the rice has entirely absorbed it.
Now, add one ladle of your stock. Stir until the rice has absorbed the stock. Continue, one ladle at a time, until you've used up all of the stock, stirring continuously. This could take anywhere up to 45 mins – check after 25 mins to make sure that the rice is fully cooked, with no chalkiness.
When the rice is cooked, add the parmesan and plenty of black pepper. Add salt if needed. And serve!
Tikka masala bean pot pie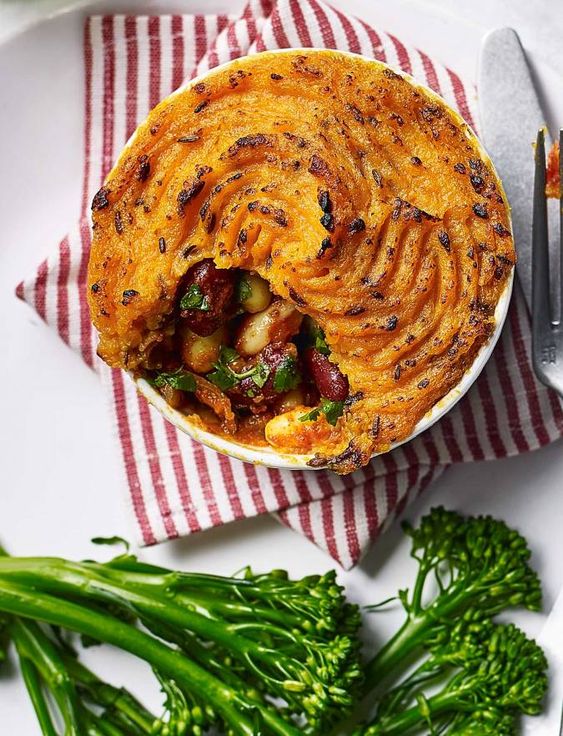 This curry-inspired pie uses a delicious spice mix from the Indian sub-continent. And with a delightful fluffy butternut squash and sweet potato topping, this is an indulgent treat at just 375 calories per portion.
You can make this yummy recipe in four individual 1-portion pie dishes or a large oven dish to share if you prefer the communal feel.
INGREDIENTS
1 tsp cumin seeds
1.5 tbsp olive oil
1 large onion, finely sliced
2 garlic cloves, crushed and finely chopped
4 tbsp tikka masala paste*
400g/14 oz tin of chopped tomatoes
800g/18 oz pre-cooked red and white kidney beans, rinsed and drained
A handful of cilantro, roughly chopped
300g/10 oz butternut squash, diced
300g/10 oz sweet potato, diced
400g/14 oz Tenderstem broccoli
*You can make your own tikka masala paste by blending equal measures of the following herbs and spices with a little oil.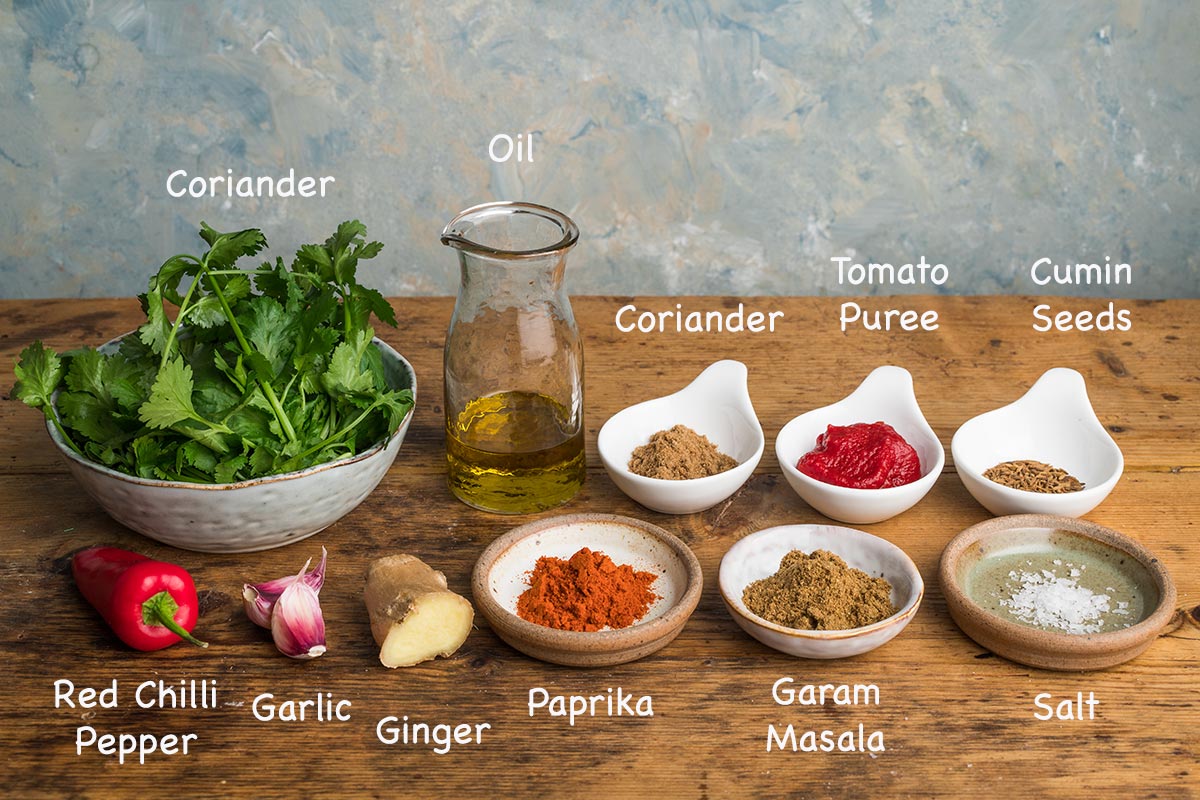 METHOD
Preheat your oven to 430ºF (or 390ºF fan).
Toast the cumin seeds at a medium heat for a couple of minutes until they release their aroma. Set aside.
Add half of the oil to the same pan, and fry the onions over a medium/high heat until they turn golden. Add the tikka masala paste and the garlic and fry for 2 minutes until the aromas fill the kitchen.
Add the tinned tomatoes and the beans, along with 2 tbsp of water. Simmer for 10 minutes. Stir in the chopped coriander and season to taste.
Meanwhile, stick the diced squash and sweet potato into the microwave for 8-10 minutes until soft. Use the remaining oil to mash and add the toasted cumin seeds, along with a little seasoning.
Now you're ready to build the dish. If you're using separate individual pie dishes, separate the beany mix evenly into each dish and top with the mash. Using a fork, roughen up the surface of the mash and transfer to a baking tray. Alternatively, add all of the beany mix to a large casserole dish, and cover with the mash.
Bake for 15-20 mins until the topping is crispy and caramelized.
While the pies are in the oven, heat some water to boiling in a saucepan and cook the Tenderstem broccoli for 4-5 mins, until tender.
Drain the broccoli and serve along with the pies.
Yum!
Low-calorie meals full of flavor
You need comfort in January; not a diet. January should never be about starving yourself after the holiday feasting.
It's easy to eat well for fewer calories if you really think about what you add to your cooking pot. The following ingredients are great for bulking out your meals:
Mushrooms – THE low-calorie bulker: depending on the type, they vary from around 20 calories to just 8 calories per 100g/4 oz.
Broccoli – around 47 cals per 100g/1.5 cups
Cauliflower – around 25 cals per 100g/1 cup
Chicken – around 153 cals per 100g/4 oz
Cod – around 100 cals per 100g/4 oz
Happy eating!