You've done all your food shopping, and you've started the early prep. Hey, you're on fire this year – nothing can stop you now!
But then you get a call from your kid – they're bringing their new partner to Christmas dinner. Excellent! Oh, but they're vegan – that's OK, right, mom?
Erm. Sure.
The more, the merrier.
And then you put the phone down… What the heck do you feed a vegan at Christmas – surely all they eat is quinoa, tofu, and ice cubes, right?
Well, vegan food is delicious – you just need to know how to prepare it.
So, fear not – for we are about to embark on vegetarian/vegan Christmas fare that – maybe – everyone will want to try.
What is a vegan?
Of course, most of us know what a vegan is – they eat solely plant-based foods. So, that rules out meat (obviously), fish, and anything dairy, including animal milks, eggs, and cheese.
You might think that that wipes out literally everything – but vegans eat lots of:
Vegetables
Fruit
Nuts
Legumes, such as lentils
Grains, such as rice, oats, etc.
It rules out cheese, which is a tough one to navigate. Of course, you can get vegan cheese, but even vegans don't really like that very much.
The closest thing to cheese in the vegan diet is nutritional yeast, which is MUCH more delicious than it sounds.
What the heck is nutritional yeast?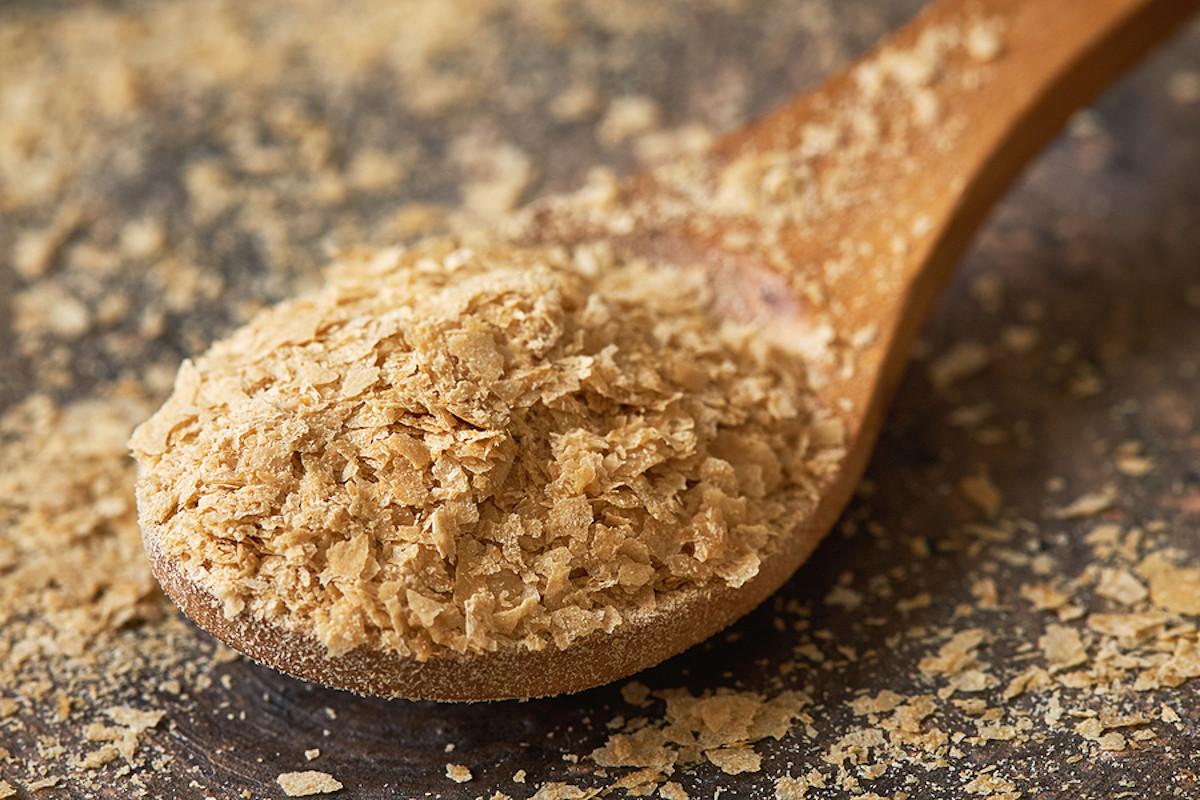 OK – it looks a bit like fish food flakes, but it doesn't taste anything like it.
It tastes – well, like cheese. In fact, it's so cheesy that you'll be shocked that you've never tried it before.
Nutritional yeast tastes like all the delicious little crumbs leftover in a bag of cheese n onion crisps.
So, don't knock it till you try it. You wouldn't be the first person to find these weird little flakes totally addictive (they're not ACTUALLY addictive, of course). Just make sure you wipe around your mouth after you've raided the nutritional yeast jar.
What do you do with tofu?
Vegans and vegetarians eat a lot of meat substitutes. That doesn't mean they like meat, btw! It just means that they want something with the texture of meat (that hasn't screamed to death!).
Typical meat substitutes are things like:
Mycoprotein
Textured Soya Protein
Seitan
Tofu
Jackfruit
Tempeh
And there are some really convincing plant-based meats prepared in sausages and patties made by Beyond, Oomph, and Quorn.
Tofu is an odd compound made from the curd of soya beans. Sure, that doesn't sound particularly tasty – and it's not THAT tasty on its own. To be honest, it doesn't actually have a particularly distinctive flavor at all.
But it acts like a sponge for other flavors, so it CAN be super-delicious.
Tofu comes in silken-, medium- and firm varieties. For the following recipes, we will use firm or extra firm. Don't make the mistake of buying silken tofu – that's for soups, etc.
What about dairy?
Vegetarians usually drink animal milks from cows, sheep, and goats. Vegans don't; they drink (and cook with) plant-based milks, such as oat milk (yum), soya milk, almond milk, and cashew milk.
Most vegetarians eat eggs and regular cheese (although most don't eat cheese that contains animal rennet). Vegans don't eat any dairy at all.
What about recipes, then?
OK, so those are the "rules." Read on for some really delicious recipe ideas.
Glazed Tofu Roast

This delicious roast is one of the most original ways of preparing tofu. It's so delicious that everyone will want some, and it looks like you've taken an enormous amount of care to create it.
This recipe has a lot of ingredients, but it's actually incredibly easy to follow.
INGREDIENTS
14oz tofu block (extra firm)
1 orange, sliced
16-24 cloves, whole
For the marinade:
1/4 cup olive oil
1/4 cup soy sauce
1 tsp mustard
1.5 tbsp liquid smoke
2 tbsp maple syrup
2 tbsp dark brown sugar
1 tsp smoked paprika
2 tsp garlic powder (or 3 fresh garlic cloves, minced)
1/2 tsp black pepper, ground
For the glaze:
1.5 tbsp whiskey
1/4 tsp orange zest
1/2 cup orange juice, freshly squeezed
1.5 tsp dark brown sugar
1/4 tsp chili flakes
2 tbsp apricot jam
1/4 tsp ground ginger
1/4 tsp salt (or smoked salt if you have it)
1 tsp paprika
1/3 tsp black pepper, ground
INSTRUCTIONS
Day One
Remove the tofu from the packaging and press it – this removes the excess water. If you don't have a tofu press (who does!?), wrap the tofu in a clean towel and stack some heavy items on top, like tins, large recipe books, a cast iron pan, or even bags of rice. Leave the weights on top of the tofu for at least 30 minutes.
While you're pressing your tofu, add all of the marinade ingredients into a bowl, and whisk.
Place the tofu into the marinade mix. Use a loaf tin if you have one, and make sure that the liquid covers the tofu thoroughly. Leave it to steep for at least 24 hours – 36 if you can. Every now and then, turn the tofu over and spoon the mix over the top.
And relax.
Day Two
Preheat your oven to 375 degrees F.
Line a small baking dish with greaseproof parchment, covering the sides of the dish.
Line the orange slices along the bottom of the lined tin, then add the marinated tofu block on top.
Using a sharp knife, score diamonds across the top of the tofu. Spike individual cloves where the lines cross (like a Christmas gammon).
Bake for an hour. Check after 45 minutes and remove from the oven if the edges are started to catch. Don't worry if the orange burns – it's not going to be eaten; it's there for flavor.
While the tofu is in the oven, add the glaze ingredients to a pan and bring them to a boil. Reduce the heat and simmer for around 30 minutes until it has become thick and unctuous.
Once the tofu has been baking for around an hour, it's time to pour the glaze over the tofu roast. Put it back in the oven for 10-15 minutes until the glaze has started darkening at the edges.
Take the tofu out of the oven, and rest for 15 minutes. Remove the cloves and the orange slices, and serve!
Christmassy Nut Roast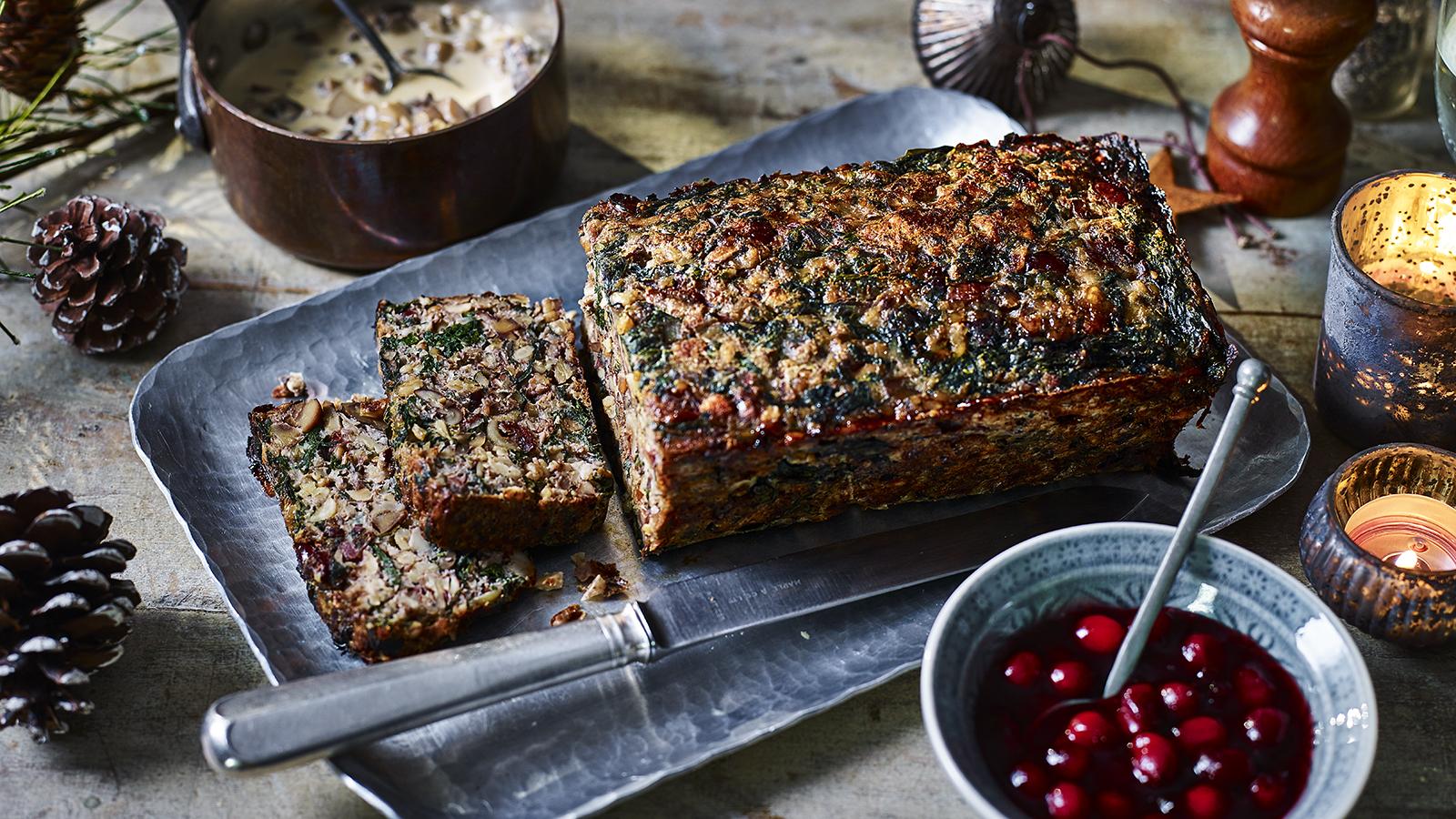 Nut Roasts have come a long way since the dried-up old things we used to get in the 80s. A proper Christmassy nut roast is a beautifully delicious thing to behold.
You'll need a sharp cutting blade and a powerful food processor.
INGREDIENTS
10.5 oz chard or spinach
1 3/4 oz cranberries, dried
2 fl oz sherry
1 tbsp olive oil
1/2 oz butter
1 onion, chopped finely
7 oz chestnut mushrooms, chopped
1 parsnip, large, coarsely grated
2 garlic cloves
1 tsp dried sage
Lemon zest of 1 lemon
1 sprig of thyme
5 1/2 oz of brown rice, cooked
3 1/2 oz chestnuts, cooked and chopped
1 oz breadcrumbs, fresh
3 eggs
1 oz butter
INSTRUCTIONS
Preheat the oven to 390ºF.
Line a loaf tin with parchment paper.
Wash the spinach (or chard) in cold water, drain, and add to a stove-top pan with a little water. Heat gently until the leaves have wilted. Drain and leave to cool. Chop roughly.
Add the cranberries to a small pan and add the sherry. Boil, and remove from the heat to cool, until the berries have soaked up the sherry.
Heat the butter and olive oil in a pan, add the onion and cook slowly until caramelized and sweet. Add the mushrooms and heat until they're no longer leaking liquid. Then, add the parsnip and cook until it has reduced in volume. Finally, add the garlic, sage, thyme, and lemon zest, and cook for a few more minutes.
Add the cooked rice, nuts, breadcrumbs, chopped spinach, and mix everything with the beaten eggs until everything is coated. Then, add plenty of salt and pepper to taste and mix thoroughly.
Spoon the mix into the loaf tin and cover with greaseproof paper. Bake in the oven for an hour.
Serve with veggie gravy and cranberry sauce.
Delish!
Delightful mushroom wellington
Puff pastry is always super-indulgent and delicious, so it's only fitting that it appears on the veggie Christmas table.
Use standard puff pastry for vegetarians or dairy-free for vegans. Again, it feels like there are many ingredients, but it's simple to construct.
INGREDIENTS
3.5 oz dried mushrooms (preferably porcini)
2 tbsp olive oil
1 large onion, chopped
9 oz chest mushrooms, chopped finely
2 garlic cloves, crushed
2 large sweet potatoes, peeled, cut into 1-inch chunks)
1 tbsp rosemary
1 tbsp sage
3 1/2 oz breadcrumbs
2 tbsp pomegranate molasses
1 1/2 oz pecans or walnuts, chopped
1 1/2 oz dried cranberries
Grated nutmeg (to taste)
2 x 11 oz puff pastry (dairy-free for vegans)
plain flor for dusting
3 tbsp plant milk (oat, soya, etc.)
1 tbsp mustard
INSTRUCTIONS
Soak the dried mushrooms in 500ml boiling water. Once fully rehydrated, chop them into small pieces. Save the soaking water.
Heat the olive oil in a pan and fry the onions until golden. Add the chestnut mushrooms until soft and reduced – for around 20 minutes.
Add the sweet potatoes, garlic, and rehydrated mushrooms, along with the soaking liquor. Cover, and cook for 15 minutes – the potatoes should be soft, and most of the liquid will have evaporated.
Add the chopped herbs, breadcrumbs, nuts, cranberries, nutmeg, molasses, and salt and pepper to taste. The mixture should resemble a moist stuffing. Leave to cool.
Unroll the first pastry sheet and place it on a floured non-stick baking tray. Whisk the milk and mustard and set aside.
Spoon the cooled mushroom mixture neatly along the middle of the pastry sheet, leaving 2 inches around the edge of the pastry. Use the milk/mustard mix to brush the borders, and top with the second puff pastry sheet, removing any air pockets. Crimp to seal the edges.
Cut a steam hole in the pastry and brush with the remaining milk/mustard mix. Chill on the baking tray for 30 minutes.
Heat the oven to 390ºF. Bake the wellington for 35-40 minutes until golden and crisp all over, covering with foil if browning too rapidly).
Leave to rest on a board for 10 minutes before slicing and serving.
So there you have it!
Three really delish recipes for veggies and vegans that are worth celebrating.
Have a great Christmas!!!