Liquid eyeliner gives a precise and defined look to eyes. Wearing eyeliner gives your eyes an amazing and beautiful transformation. If you are a beginner with shaky hands, then I believe its a quite difficult task for you to apply it properly. Either it looks so thick or so thin like a line drawn by a kid, in short, Total Disaster!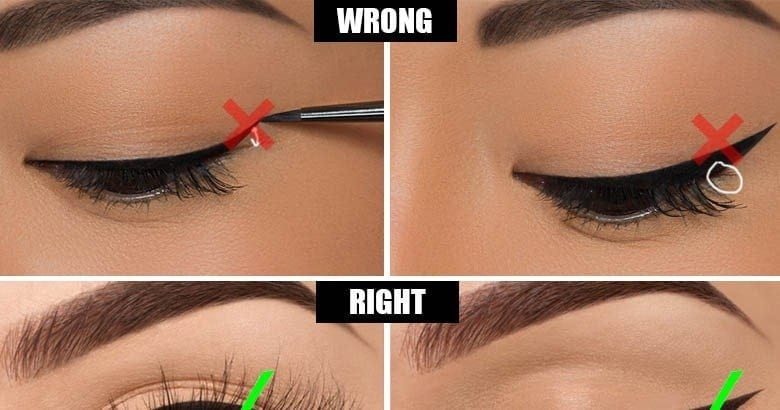 Nowadays there are so many brushes, and cosmetic products in market that make it really easy to apply eyeliner elegantly. We have collected a brief but useful list of points that will help you to draw the perfect line on the eyelids.
You must be thinking that there are eye pencils and crayons available in market, then Why should we use Liquid Eyeliner? Well! Liquid eyeliner enhances the eyes dramatically and it makes the lashes appear fuller. It is long lasting as compare to the regular pencil.
How to Put on Liquid Eyeliner : Let's discuss it step by step :-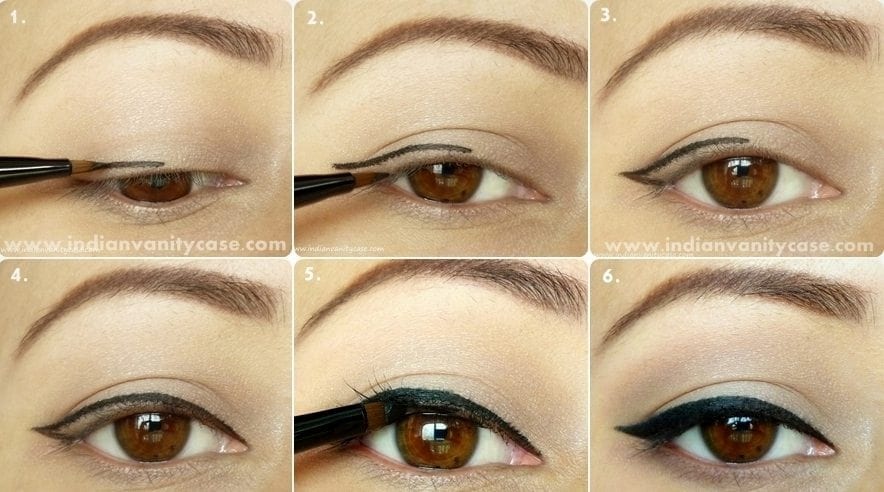 First of all hand needs to be steady. For shaky hands, I would suggest you to take the help from elbow or use any other proper support to draw the fine line.
Clean your eyelids. Apply eye primer and other eye makeup before applying eyeliner.
Starting from the middle of the eyelid draw a thick line towards the outer corner of your eyes. Draw the line as close as you can to the upper lash line. Make sure the brush of the eyeliner is thin. Do not cross the line beyond the upper lash line width wise and no need to put pressure on it.
Then again from the middle draw a thin line towards the inner corner of your eye.
If these two lines seems to be broken and uneven, give it one more touch.
Then apply concealer in the end. Complete it with some eye shadow.
And We Are Done !
Alternate Way to Apply Eyeliner : The above way may not be that simple for a beginner, there is one more alternative that you can try.
Place some dots all along the lash line and then join them in a symmetry. Give touch up for the uneven lines/ points. 
I believe pencil eyeliner is quite easy to apply. So you can use a pencil eyeliner to draw a light line and then dark it using the liquid eyeliner.
If you are finding it difficult to draw a line from the middle of eyelid then you can start from the inner corner and draw a line towards the outer corner. Try to draw a thick line instead.
You can slightly stretch the outer corner of your eyes if you are facing some problem in drawing a good line.
I hope these suggestions seems to be helpful for you girls! Let us know if you find it beneficial. Do comment.
Now we know how to apply eyeliner, then let's start with Products Required :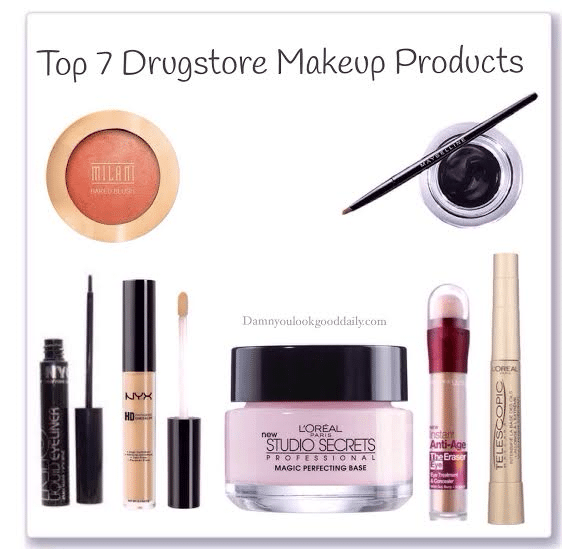 Liquid Eyeliner
Concealer
Compact
Eye Primer
Cotton buds
How to get soft and sharp liquid eyeliner?
Gently apply under eye cream to moisturize the skin and relieve the dryness.
To hide the dark circles or pigmentation use the correct combination of concealer.
Now apply your favorite eye shadow. Use a soft brush to apply the eyeshadow to cover the eyelid area.
Now take a black eyeliner to draw a thick or thin line according to your interest.
To avoid the smudge use a cotton bud, after the liner get dry.