Even if you think you might be a pro at make up or a noob, eye make up can sometimes tie you down and prove to be balls and chains. It becomes necessary to be aware of certain tips which can make your job easy and faster than usual. Below, we have complied few tricks which can help you work the magic and ace at your make up!
You need not fret about it anymore. Just incorporate these simple hacks and see your eye make up skyrocket.
Simple Eye Make up Tips for beginners.
Eyeliner Tips
Mascara Tips
Eyeshadow Tips
Eyebrow Tips
EYELINER TIPS!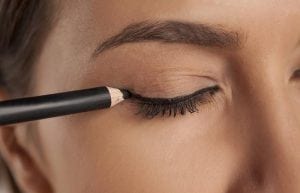 Eye liner can hep provide versatility to your eyes by giving it an illusion of various shapes. It helps in defining your eyes fill in distances created by lashes. It depends on your eye texture and the way you apply it.
Here are some tips and techniques for this step.
Make sure your eye lids are clean and then apply primer, this way your eye makeup will not smudge and increase it's life.
To dense your eyelashes up, apply eye liner as close as your natural lash line. Use a stiff slant brush, make dots from outer side to inwards and connect them.
Use a thin and blunt liner which will help you get a crisp shape. Keeping you eyeliner in refrigerator can also prevent it from crumbling and help you aim perfection.
Wings can be achieved the best with a liquid eye liner. Start off from the lash line and work to the corner. If you hands are often shaky, use a pencil eye liner to draw first and then use liquid liner above it.
If you wish to achieve a soft smokey eye look, use pencil eye liner. They give a creamier look and you can smudge it easily for the cold smokey eye.
You can even use different colored liners which will make you look more girly!
TIP: Keep tilting your face up and down while applying eye liner.
Mascara Tips: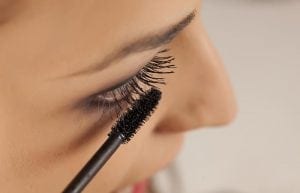 Don't you feel it too that mascara has a certain effect on eye giving it the wow factor. This also adds more youth to your look.
Some important tips :
7. Always start applying mascara from the roots and work you way up to the tips. This will give volume to your lashes.
8. To avoid the clump, after one coat wait for few seconds for the second coat.
9. Before applying, wipe off excess tissue. This will help you avoid clump and provide a flow.
10. Using a curler before applying eye liner. Pinch eye lash curler at base and hold it rotating upwards.
11. Holding your mascara matters. Holding it horizontally will give then volume and vertically to provide natural look.
12.  Avoid pumping your wand while pulling it out for making your mascara last long.
Note: Apply it at the last to have better results.
EYESHADOW TIPS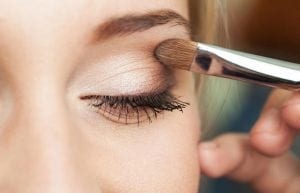 Eyeshadow adds depth to your eyes adding dimensions to it. It also helps in making your eyes look big. Here are some tips.
13. Use good quality products or don't use it at all.
14. Use primer to avoid the creases and make your eye shadow last longer.
In addition, You can use white eye shadow first to add base, this will also help it pop out and look vibrant.
15. Use darker shade near the lash line and use medium for the area above the medium shade and for the top use lighter shade.
Eyebrow Tips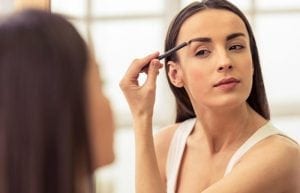 Eye brows play a major role in providing a proper structure to your face shape. A perfect eye brow shape depending on your face shape is very crucial as it ups your beauty quotient to a larger volume.
16. Many brow shade are available in market, you can choose the one which best suits with your hair and fill any gaps which are created.
17. The most crucial thing is to make sure one does not over do their eyebrow so much so that it stops looking natural. Make sure you blend the product in order to avoid harsh lines.
18. Highlighting the shape of your brows by using a highlighter beneath it will add height to it and give it a crisp shape!
19. Some times eye brow hair tend to get out of shape, one can use eye brow gel as they look better when they are groomed.
20. Using an angel stiff brush which will create a bold look. Use a matte brown eye shadow and wet it before using.
Few More Eye Makeup Tips For Beginners.
21. Make sure your make up looks fresh. One can achieve this by finishing off with eye make up first and then proceeding with the base.
22. Loud eye make up goes well with subtle lips. Emphasize on one feature at a time.
23. A light color of eye shadow can be used to make your eyes look bright and more youthful.
24. If you want the curl to stay for a longer time, blow dry your curler, make sure it is not too hot.
25. If you get excess of make up, use bloating paper to remove without disturbing eye liner.
These are some very basic and crucial make up tips which will help you out and up your game! Keep them in mind the next time you apply make up.
Not only is it important to get make up on properly, but also there are certain things to be kept in mind while removing it.
How To Remove Eye Make up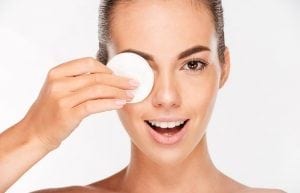 It is very important to use a good quality make up remover. You can also use coconut oil or some baby shampoo for the same.
NOTE: Some of you tend to face wash in order to remove make up, this only dries your face up and increases chances of your lashes to fall out.
Use make up wipes first before going in straight to the washroom to wash your face.
Use minimum pressure with your hands and be gentle while taking the make up out.
You can also use cotton and put some make up remover on it. Use it on your face gently!
When you do not wish to use any chemical product, or run out of make up remover, you can also use coconut oil to get it off. Apply oil on you face using you hands and remove it using a cotton ball.
NOTE: Instead of coconut oil you can also use olive oil, almond oil or petroleum jelly.
5. Use a face wash which is gentle.
6. After you wash the make up off, use toner which will fill in the pores and moisturize your skin.
Using A Baby Shampoo For Removing Eye Make Up
Remove make up from rest of your face
Wet your face especially on your eyes.
Apply baby shampoo on your eyes in to and fro motions.
Splash water and wash off the soap.
Repeat if the need be.
Use a mild face wash to wash your face.
Use a toner after you wash your face, this fills in pores and hydrates your skin.
An under eye makeup makes skin supple and helps in reducing eye bags and dark circles.
We hope you found our entire work helpful and make sure to apply them the next time you are doing makeup. Share these tips and also comment below and let us know which ones worked the best for you!