Many of us often take a lifetime to use those complex beauty tips which we read about that helps make our routine easier. This is why we have compiled simple beauty hacks which is far too easy to apply, apart from being very helpful. Explore below which beauty tip interests you!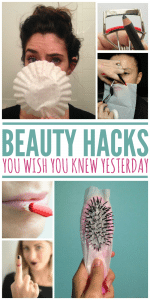 Tips to Look Your Best
Not all of us out here are perfect, this tip is of great help to the clumsy ones. If you end up breaking your eyeshadow, foundation or blush, just Fix it by rubbing alcohol.
Chapped lips are not good looking, get rid of them by  exfoliating with a toothbrush and using the right balm afterwards.
You don't need to rush outside if you run out of pore strips the next time. Instead, use pennies along with unflavored gelatin and milk to get the same effect.
Apply Vaseline on your wrists and then apply perfume on it to Make your perfume last longer.
If you have a hard typing drawing a straight line without a ruler, you might actually suck at applying eyeliner too, well i too am. But things have been made easier ever since i started to Apply eyeliner to my eye lash curler. Super convenient and a boss time saver!
You don't have to throw your sparkly eyeliner away.  Mix it with clear nail polish and you will end up creating your own custom nail color!
To make your eyeliner last longer, add Visine or even water!
To make your curls long lasting, curl your hair in the middle first and then the end.
Nothing bums us out it winters more than static hair, you can calm the frizz using  dryer sheet. Rub it over your hair and also on the brush!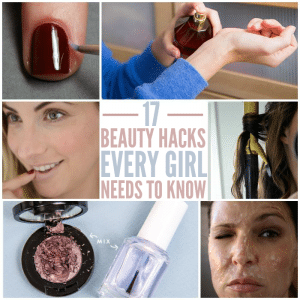 Beauty Hacks
You no more have to spend on buying oil blotting sheets. You can use coffee filters available right in your kitchen.
One should always apply foundation to your lips before applying lipstick, it adds richness to the color you apply and acts as a primer. Smile while applying in order to fill up the gap.
After applying lipstick, pop your finger in your mouth and pull it back to remove excess lipstick.
Next time you shave your legs, make sure to Exfoliate your legs. This might help in getting the tiny hair out and shaving properly!
While we are on the topic, one can never seem to avoid the nick here ad there. Stop the bleeding and promote healing  by applying a clear lip balm.
In order to get the perfect manicure, clean your nail polish stick by dipping it in the  nail polish remover!
cover your lips with a tissue and dust translucent powder in order to set your lipstick.
We all get irritated when a dark nail polish leaves stained nails. Use lemon and baking soda for making them white again.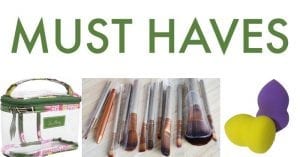 Bamboo Handle Brushes will help your make up routine since they are high quality!
You no longer have to blend your make up with your fingers, use Makeup Blender Sponges
Cosmetic Travel Bag to help you take you makeup conveniently anywhere over the earth.