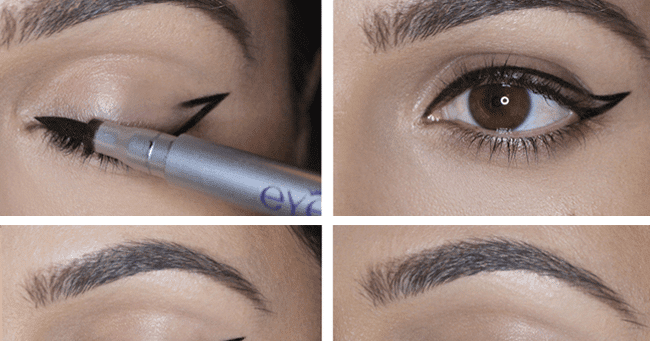 When it comes to beauty winged eyeliner has its own importance. Winged eyeliner gives you more classic and stunning look and it is referred to as 'cat eye'.
You can explore your look with winged eyeliner. Winged eyeliner is a sleek and clean look which can be difficult to achieve without the proper technique.  There are many ways which are used by people to create a perfect winged eye.
In this article we share the easiest way to create perfect winged eyeliner. Just follow these simple steps to get an amazing result.
Start creating line at the outer end of the eye and before creating blueprint of it you can begin by drawing a diagonal line halfway up from the corner of your eye as shown in picture. This will help you figure out helps the specific angle and shape of that flirty flick!

In the next step, to create an entire flick shape draw another line that meets the previous line to create a point. It would be the best if it makes you happy and confident about it.


Now if you are happy and satisfied with the shape then go further to the inner corner of your eye and start drawing a line that extends to meet the second line you drew. For drawing perfect line along your lash line, let the pen or brush move smoothly along the curve of your eyeball. This will help you create perfect winged eyeliner that suits on your eye shape.

Carefully press the pen into your lash line so there are no gaps between your lashes and the liner. To erase mistakes, take a small liner brush and rub it into a makeup remover wipe, and clean up the mistakes with brush.