Foundation is a skin colored cosmetic whose application is restricted to the face. It is necessary that this cosmetic is applied uniformly on the face to gain maximum benefits out of it, such as:
It acts an Add-on to your skin that enhances your skin complexion
It covers up the visible flaws on your face and
It helps you, in changing your skin tone
These may also function as moisturizers, sunscreens, astringents or a base layer
There are many different brands of foundations available in the cosmetics market. These foundation brands differ from each other in terms of their formulations such as the color combinations, color classification, color selection and color coverage. The most important factor is the "Ingredients" that is blended into a foundation. These ingredients classify the foundation as a cosmetic and may include the oil-based, alcohol-based, water-based, powder-based, silicon-based blends.
Before getting started on trying out on all these rich and vibrant varieties of the foundation cosmetics, you should avoid the following steps that you often tend to skip or miss out;
1.Applying it to Unclean Skin:
Wash your skin well before applying the foundation. Washing the skin clears up all the clogged pores, making it fresh and moisturized. This enables the quick absorption of the foundation by the skin and thus the cosmetic gets blended well, enhancing the skin tone of the face. Do not apply foundation to an unclean skin.
2.Applying it to Bare Skin:
Exfoliate the dry skin or any patches. Apply a moisturizer or a primer on your face before applying the foundation. A moisturizer helps the skin to stay away from dryness and a primer keeps the makeup appealing and fresh for a longer duration. Do not apply the foundation to a bare skin.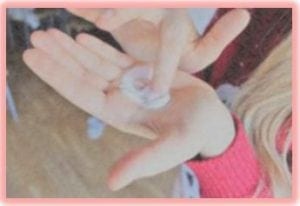 3.Applying with your Fingers:
Though applying the foundation with fingers gives you a natural look, as the heat produced by the friction of your fingers will let the foundation melt onto your face, but this is not recommended while applying makeup to the entire face. Always use a brush with dense bristles to apply the foundation uniformly all over the face, as it is less likely to leave any smudgy marks on the face.
4.Choosing an Undertone Incorrectly:
The skin that wraps your face, neck, arms and rest of the body is completely different from each other in terms of the color shade and the texture. When applying a makeup, it is important to choose the right skin tone that suits your skin, the best. The color that matches your skin can be identified by placing your skin under the natural light instead of the indoor lightings, as these indoor artificial lightings may interfere with your skin tone and cast the skin differently. All that you have to do is to place your arm in the daylight and check on the color of your veins underneath the skin. This will reveal the right skin tone for you to choose from. The foundation that you choose depends on the type of undertone such as cool, warm and neutral for the skin.
If your skin is warm, a cool tint of either brown or, reds and violets or blonde shades should be your choice to add up an attractive feature to your face;
If your skin is cool, a warm shade like golden blonde, caramel brown or copper should be the most pleasing option;
If your skin seems to be neither warm nor cool, then wear a neutral skin tone. As these neutral skin tones include a variety of colors, you should choose to be subtle and not vibrant;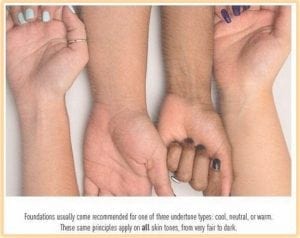 5.Choosing a Foundation Incorrectly:
The skin complexion varies from being very fair to cool, warm and darker shades. The selection of the color of the foundation should be done carefully. You can choose the right foundation for your skin based on your skin undertone. As the skin texture of your facial and neck region differs from that of the arms, so test the foundation on your neck instead applying on your arms. This will help you to identify the true color shade that is the best match for your skin complexion.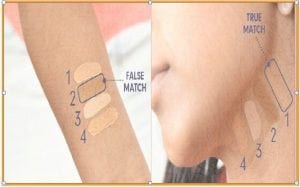 6. Being Unaware of your Skin Type:
When applying foundation, it's also important to know what type of skin you have, so that the foundation that you choose gets blended well under your skin. Your skin type could be either dry or oily or a combination of both. In order to identify the skin type, you can follow these simple steps: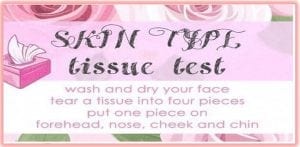 Wash your face with lukewarm water and cleanser, and then place few pieces of a tissue paper all over your face.
If these pieces stay for a while and then falls off the skin, then your skin type is normal;
If these pieces fall off the skin immediately, then your skin type is dry;
If these pieces don't fall off the skin and sticks to it, then your skin type is oily;
If these pieces stick to your nose and mouth region then your skin type is a combination of both, dry, and oily;
7. Using Bronzer Incorrectly:
A bronzer removes all the dullness off your face and gives an attractive edge along with a natural glow. As this bronzer is just a highlighter, so it should be used only, to highlight certain areas as cheekbones and chin; it should not be applied all over the face. Applying bronzer incorrectly can make your looks shabby or orangey. Create an even base using foundation and concealer then apply your bronzer coating lightly and evenly to build up the right skin color, making your face to sparkle with radiance.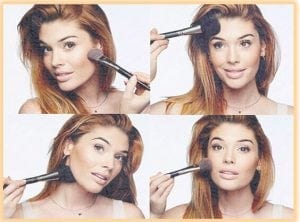 8. Using Concealer Incorrectly:
Applying the concealer after the foundation will not only help the foundation to get evenly blended with the skin tone but also help the concealer to cover all the dull spots and blemishes on your face. This application of concealer after the foundation helps the makeup to spread uniformly without leaving any streaky patches. If the concealer has not blended well enough with the foundation and your skin tone, then take a moist sponge and brush it on your skin in an outward direction. This might set the concealer in a right way.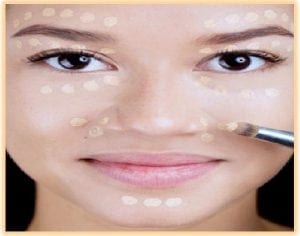 There are different types of concealer in various shapes, sizes, and color tones available in the market. As these concealers mask different regions of your facial skin so choose an appropriate concealer which is lighter than your skin tone. Clean up your face and apply a moisturizer. Identify the facial areas to conceal and brush through these areas by marking a dotted pattern which runs through your eyes, brows, chin, and the corners of your nose and mouth.
9. Foundation around the Eye Circles:
Do not overload the eye areas with a foundation or a concealer to mask the dark circles around your eyes. Dabbing a concealer, kindly, around your eyes will cause the bizarre effect of 'eye-only' projection and give out a patchy makeup look. Ensure that you apply only a substantial amount of foundation/concealer around your eyes, instead of being generous.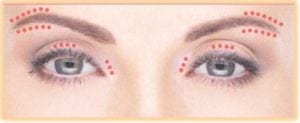 10. Using Tinted Powder to set your Foundation:
A facial powder helps to set a makeup so that it gets absorbed by your skin and stays intact without being smudgy or sliding away. Powders can also be used as a base layer for the applying a bronzer or a shimmer. You can apply powders, after applying the foundation so that every aspect of your make up remains undamaged for a longer duration.
The types of powders available in the market include a loose powder, a pressed powder, a setting powder and a finishing powder. Irrespective of the type of powder you choose to use; of all these versions of powder, be sure to use a translucent powder form and not the tinted powder form. A translucent powder has no color added to it and hence it suits best with all types of skin tones and skin types. The translucent powder dominates over the shine and sets your makeup without adding excess matter to it. Another alternative of translucent powder could be a setting spray or a foundation powder for a natural matte finish.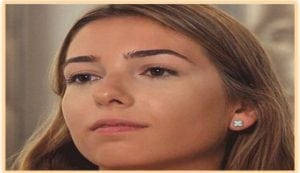 Beware of the tinted powders and use them only, if necessary. Be careful, when you select a tinted powder as it should suit your skin tone or skin type. Though these tinted powders tend to add a little extra volume and help conceal any spots/scars on your face, these often incline towards a heavy and an over-processed makeup look.
 11. Neglecting the Wash off Routine:
A simple and great way to show affection towards your skin is to follow a daily cleansing routine wherein you need to rinse your face during sunrise, sunset and right before bedtime. In order to get the most of this routine, you can probably add a mild cleansing agent depending upon your skin type. This routine holds good, even if you don't apply makeup.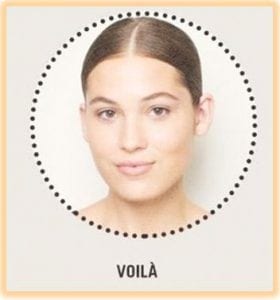 Splash up well and ensure that you remove your makeup by using gentle makeup removers as the basic cleansers will not be effective in removing the makeup products that are smudge-proof or waterproof.
Conclusion
If you love your skin and take good care of it, then your skin will love you too!