Cut Crease- It is one of the most beautiful ways in which you can make your eyes look stunning and gorgeous which does take a lot of hours to get the perfect shade and crease.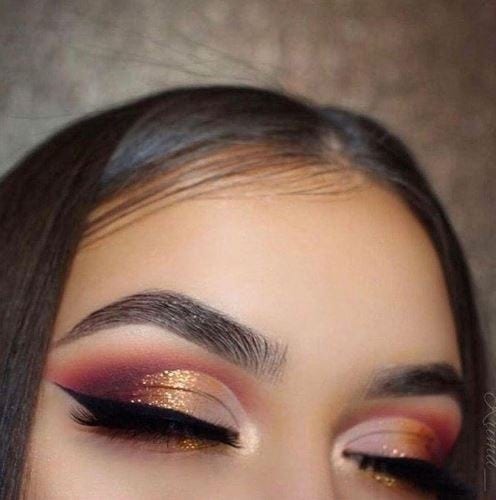 There are few things that you will be needing at first, they are jotted down below:
You will need a pack of eyelashes which are fake.
A pair of scissors
A cream-based eyeshadow will also be a necessity here and,
In order to blend, you will need a makeup brush.
Scroll down below in order to get few tips on how to get it done within just 5 minutes.
At first, you need to apply the base eyeshadows on your eyelid and blend them properly and you should apply it just till the below of your eyebrow as shown in the given picture.  
From the package, remove the eyelashes and then keep and store them in a safe and sanitary place if not using them at the present moment.
From the packaging, cut out the plastic pieces with the help of scissors, The ones which are circled in red you are supposed to cut that off as shown in the below picture.
After this, go for applying the eyeshadow color you are comfortable with. With the help of a brush apply the color in a thick layer and blend it further and you got to make sure that it is blended in an even tone.
On to your lid, then you got to gently press the side and with the eyeshadow onto your lid exactly where you want the crease to be. You got to hold it for like 5 seconds and then let it go. In your cut crease color, you should have a proper stamp.
In order to make it look more natural and more effortless, do blend it with the help of your makeup brush.
You got to repeat the steps from 4 to step 6 with the other side of the eye.
Lastly, give a finishing touch to your eyes by lining up your eyes with the help of an eye-liner and finally now your cut crease is perfectly ready. You should always remember that practice makes perfect so never forget to at least experiment.