21 Simple yet Rich makeup Ideas for Promenade
Promenade dance or a prom in the US is a major event among high school students. Getting ready for such a major event in your high school year could be nerve-wrenching, as there is so much that you need to take care of while getting dressed up for a prom. Right dress –up with Right makeup and hairstyle is all you need for a prom. Your attractive looks will magnetize all the eyes around you!
Here are some easy makeups Ideas that you might want to try at home before bumping into a makeup artist for defining your look for prom.
1. VELVETY PEACH EYES
Have you ever tried the great peachy looks?  Try this Eyeshadow palette – Too Faced Sweet Peach – just to play a change.
Peachy shade around the eyes goes complementary to all types of skin tones. A peachy tone adds an elementary hue to your modern look. And when you add a little shimmer on top of it, you will feel amazed at the stunning look that it gives on the final finish. See the image.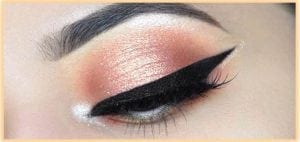 Products used to get this look: The Balm Primer, Anastasia Beverly Hills 'Modern Renaissance' palette (Primavera, Vermeer, Cyprus Umber and Burnt Orange), Inglot AMC Pure Pigment 50, NYX Jumbo Pencil in Milk and Inglot Body Sparkles XL73 (inner corner highlight).
2. DAZZLING PURPLE EYES AND ROSY PINK LIPS
Being in pinks and purples echoes the attitude of being girly, trendy and stylish. Wearing pinks and purples together will definitely add lust to the makeup mix and more to the fun of prom. Notice the image below where a slight lilac line runs through the edges of the black eyeliner making the eyes flashy and loud. The pinks on the lips are featuring its softness making the entire look subtle and desirous at the same time.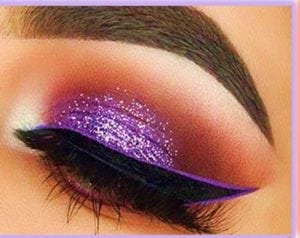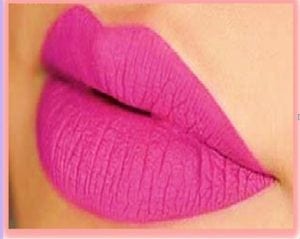 Products used to get this look:
Eyes: Anastasia Beverly Hills 'Self Made' Palette (Deep Purple shade), ABH 'Modern Renaissance' Palette – Raw Sienna, Venetian Red & Red Ochre (crease), Cyprus Umber (Outer V), Tempera (Brow Bone), and Vermeer (tear duct), NYX Glitter in shade 'Purple Reign', Tarte Cosmetics Tarteist Clay Paint Liner.
Lips: Lena Lashes Liquid Lipstick in 'Tony'.
3. ELEGANT AND RADIANT BROWN EYES
The trick behind the mix of well-blended brown and gold murky look is to pick a big fluffy blending brush of a reputed brand. To get this kind of look, blend both brown and gold eye palettes well around the upper area of the eyes. Grabbing the right tools of makeup from the market is half the battle won to get the right makeup at the right time for the right occasion. Ensure that you have everything you need right before you start blending the makeup mix.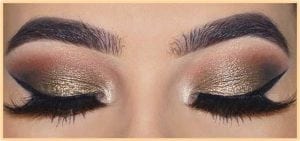 Products used to get this look: Huda Beauty 'Rose Gold Palette' – Dubai (Lid), Henna and Sandalwood (crease), Black truffle (outer corner), and Moon Dust (brow bone + inner corner); Tarte Cosmetics Double Take Eyeliner.
4. CLASSIC BLACK AND SMOKY SILVERY EYES
If you are lacking the time and if you are to attend an occasion like prom, then choosing smoky eye look could be apparently perfect. Try adding this smoky and classic look to the list of beautiful makeup ideas that you might have and give it a sure shot. Layering your makeup with a silvery eye palette will give you a shine of moon alongside the black eye palette enhancing the moonshine with the tinge of the dark night in the background. The makeup of this image is using a tape which is a great way to not only ensure that the liner flicks remains on fleek but also helps to ensure that the eye-shadow doesn't get scattered away.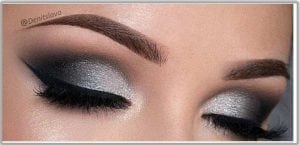 Products used to get this look: Sigma Night Life Eyeshadow Palette, Line Ace Liquid Liner, and Eclipse Eyeliner Pencil.
5. Steamy BOLD BLUE EYES AND BARE LIPS
Recreate a steamy look with bright and bold blue eyes and neutral lips to stand out in the crowd. Doing all the talk of makeup mix, the image depicts the combination of the glossy and fair lips, with gleaming steel blue eyes.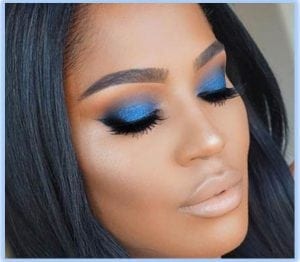 Products used to get this look:
Eyes: MAC 'Blue Flame' Mineral Eyeshadow (lid), Melt Cosmetics 'Rust Stack' (crease).
Lips: Kylie Cosmetics 'Exposed' lip gloss.
6. GLITTERY GOLD EYES AND MAUVE LIPS
Try the makeup mix of glittery gold eyes and mauve lips as shown in the image.This is going to ablaze the occasion that you are attending. Needless to say, Glitter adds the royal lineage to the eyes and mauve lips adds the simplicity to the golden hue thus enhancing the entire makeup. When this makeup is worn, choose a long-lasting decent primer along with a good glitter adhesive.
Few witty tricks that everybody can follow are:
Ensure that your eye glitter is not shared and worn by others;
Ensure that you carry a makeup setting spray along, which is essential for keeping your entire face in check;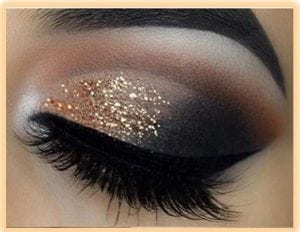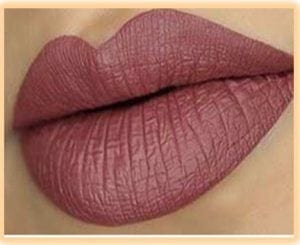 Products used to get this look :
Eyes:  Tartelette Amazonian Clay Matte Eyeshadow Palette – Force of Nature (Upper Crease), Dreamer & Multi-Tasker (Crease), Natural Beauty (Inner Corner), Fashionista (Outer V), Super Mom (Brow Bone and Tear Duct); NYX 'Copper Sparkle' Glitter and TheBalm Schwing Black Liquid Eyeliner.
Lips: Molly Cosmetics Matte Liquid Lipstick in 'Hot Chocolate'.
7. NATURAL LOOK
If you think that you are dressed well enough and don't really care to wear a makeup, then you could leave your makeup to be as minimal as possible. This minimal makeup look still makes a difference as this will showcase your natural beauty that radiates from within you. This is a naïve look that anybody who is in dilemma, with regards to the look, can wear for a prom.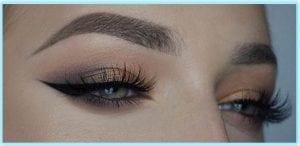 Products used: ABH Eyeshadow Singles in Birkin, Deep Brown, Smoke & Penny Metal; Misslyn Cosmetics Black Eyeliner Pen.
8. AN EYE AS PINK AS COTTON CANDY
Look plush with pink. Eye lining with pink shade will mesmerize everyone in the ballroom. If you don't have pink eyeshadow then there's always an alternative available in the form of layering up your eyes with pink blusher, or your pink lipstick, to get a similar effect. Lots of makeup artists use matte liquid lipsticks as eyeliner, to recreate this cherry blossoms shade.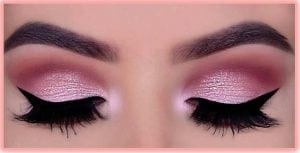 Products used: Kylie Cosmetics The Burgundy Palette in 'Dubai', 'Penny' and 'Almond' (crease + lower lash line), ColourPop Cosmetics 'Bubbly' (lid), and Inglot gel liner.
9. EARTHEN BROWN EYE WITH A POP OF GOLD
The eyebrows are as important as the rest of the look as they captivate the real frame of the face to render a beautiful makeup, especially for an occasion like prom. Trimming and threading eyebrows will give you a crisp and a beautiful brow look.This look builds a basic shape upon which you can rely to create the makeup nuances with the help of your preferred choices of brow tools. This image showcases the earthen glow with a pinch of gold at the edges of the eye circles.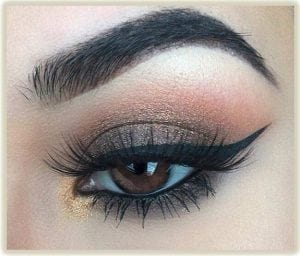 Products used: Elf Cosmetics Palette, NYX Roll On Shimmer in 'Chestnut', Wet n Wild Black Mega Liner, and BBByBeholderEL lashes in 'Jewel'.
10. A BRONZY LOOK FOR BLUE EYES
The gold and bronze shade on a blue eye gives it a metallic touch. This quick greasy metallic shade with an elegant flick of eyeliner seems to be trendy for almost any and every occasion, as prom.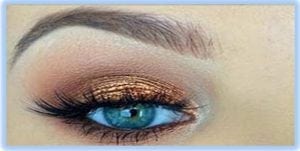 Products used: Makeup Geek eyeshadows and House of Lashes lashes in 'Iconic'.
11. LOVE the MAUVE LOOK
This lovely and stunning dusky brownish pink look in the image, perfectly glammed up with just the slightest hint of gold in the inner corner of the eye reflects the light and makes your eyes bigger and wider.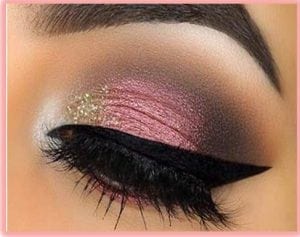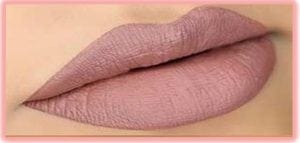 Products used:
Eyes: ABH Modern Renaissance Palette and Morphe Brushes Pressed Pigment in 'Untamed' (Lid); Certifeye glitter in Lemonade; NYX gel liner & smudger.
Lips:  OPVBeauty Matte Liquid Lipstick in 'Soho Secrets'.
12. GLITTERING EYELINER WITH NAIVE LIPS
Expediting beautiful makeup ideas for prom could be intriguing if you stick to minimal basic makeup just as in this image.Here's an eye look with just a smidge of glitter on its lines and naïve glossy lips leaving it with nothing more to add. Keep it simple and easy.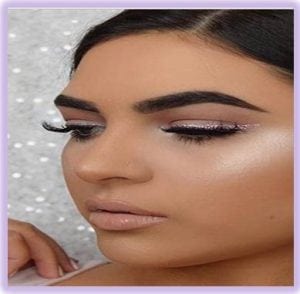 Products used:
Eyes: NYX Face & Body Glitter in 'Rose Highlight'.
Lips: Jouer Cosmetics Rose Quartz Lips + Kylie Cosmetics 'So Cute' Gloss.
13. KNIFE BLADE SILVER EYES AND GLOSSY RUSTIC LIPS
The knife blade silvery eye and a glossy rustic lip seem to be clashing with each other. But no other look can beat the intensity of this look when you wear it together.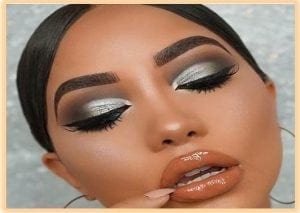 14. GOLDEN GLEAM ON LOWER LASHLINE
Leave the rest and throw the attention on the lower lash line this time. As in the image, get hooked up with the gleamy gold lash line with neutral eyelid and dusky pink eyeshade mutating your look from a daytime chic to nighttime prom.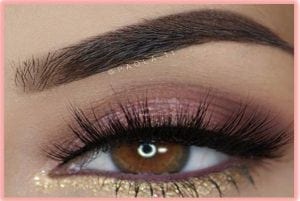 Products used: BH Cosmetics 88 Color Matte Palette, SLMissGlam lashes in 'Sparkly Glam'.
 15. TWINKLE WITH PURPLE AND BRONZE EYES
This checkered combination of purple and bronze is going to make you look vibrant. Investing in a good eyeshadow primer is no harm as long as it keeps your makeup intact for a longer duration.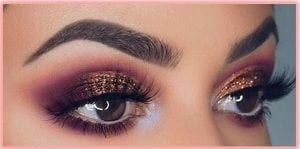 Products used: Morphe Brushes 35B & 35F Eyeshadow Palettes, Certifeye glitter, and Certifeye lashes in 'Dreamy'.
16. ICY BLUE EYES AND MONOCHROME LIPS
Open up your eyes with this beautiful icy blue shade and rock it all. Highlight your eyes with monochrome lips.Add a lighter and almost-white shade to the inner corner of your eye.And Then there you go!  Hypnotize the prom with this simple and yet gorgeous look.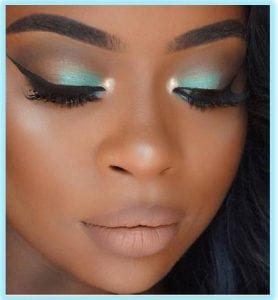 Products used:
Eyes: J. Cat Beauty Blinkle Shimmer Eyeshadow in 'Joyful Emerald' (inner lid), Too Faced Chocolate Bar Palette in the shade 'Haute Chocolate' (outer lid), Morphe Brushes 35C palette (crease), J. Cat Beauty 'Dolce de Leche' triple crown baked shadow (inner corner).
17. PATCH UP WITH PEACHY LIPS AND NEUTRAL EYES
To start with the looks as in the image, apply a pale skin-tone shade all over the eye area. This will illuminate the primer.Don't miss out on an eye primer as this features your eyes. Blend a lighter brown shade into the crease and a darker brown shade into the corner. The inner corner of the eye and the center should have a brighter and shimmered shade. Finish off with a peachy shade of liquid lipstick and you're prom ready!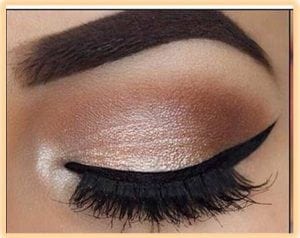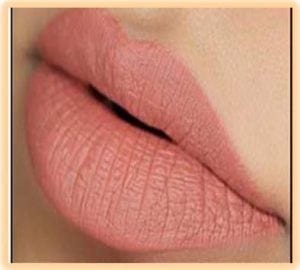 Products used:
Eyes: Morphe Brushes 350 Palette, and Tarte Clay Paint Liner.
Lips: Huda Beauty Liquid Matte Lipstick in 'Bombshell'.
18. ELEGANT AND OLIVE GOLD EYES
Gold epitomizes a combination of elegance and gentleness.  Combine this renowned luxurious shade with a flick of jet-black eyeliner. Team up the look with beautiful ruddy lips for a Hollywood glam look.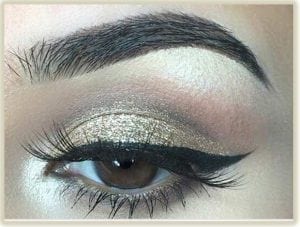 Products used: Too Faced Natural Eyes – 'Honey Pot' (lid), 'Sexpresso' and 'Cashmere Bunny' (crease); NYX Liquid Crystal Liner 'Crystal Silk' (lid).
19. TAN BROWN EYE AND TINSEL GOLD LINER
If you are a person who can't live without wearing a black eyeliner, then here's something new, that you can add to your list of beautiful makeup looks. Add a tiny line of gold around the black liner and you are done for the prom. A tweak to your regular makeup routine can bring about an ocean change to spring life into everything.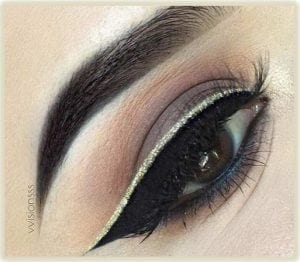 Products used: Morphe Brushes 35O Palette, Tarte Cosmetics Tartelette In Bloom Palette, Becca Cosmetics Champagne Collection Face Palette – Prosecco Pop & Champagne Pop (inner corner), Lycheexo Champagne Gold Glitter, and NYX Glitter Primer.
20. GILDED GOLD EYE WITH DOUBLE LAYERED EYELINER
Goldie everywhere! Make it look stand out by double layering the eyeliner. The gold on the lid packs a punch of beautiful look for prom.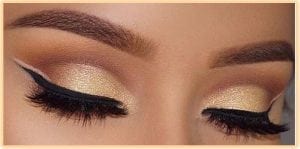 Products used: BH Cosmetics Gold Rush eye and cheek palette.
21. SOFT SHINY MAKEUP FOR GREEN EYES
This natural shimmery eye makeup with just the slightest addition of a light peach tone along the lower lash line has the power to accentuate the tone of your makeup, and when blended properly, can indeed soften the look.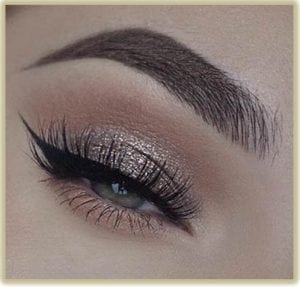 Products used: ABH Modern Renaissance Palette – Warm Taupe (Crease), CoulourPop Cosmetics 'Nillionaire' (lid), and Tarte Clay Paint Eyeliner.
Finally Be PROM Ready!
Choose to be glamorous and sophisticated, simple and soft, elegant and dignified, all at once for your prom this year. Try these, beautiful ready-to –go makeup, ideas for prom and have loads of fun!
Source: https://stayglam.com/beauty/beautiful-makeup-ideas-for-prom/2/