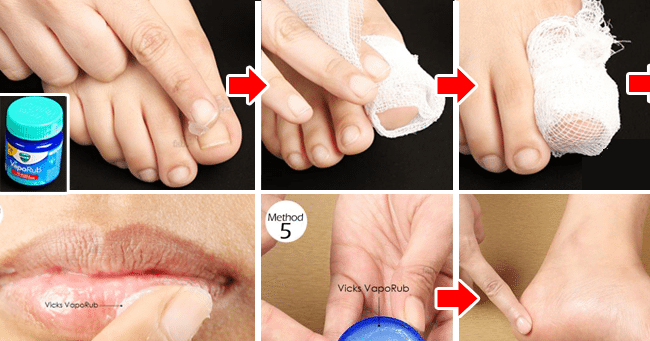 Vicks VapoRub has wide range of health and beauty benefits. It is tested and has very effective and impressive result. In the childhood, our mother used to rub it on our chest in order to get relief from coughing and sleep well at night but besides that it is used in many more treatments such as it cracked heels, sore muscles and also helps to get rid of pesky warts on the skin. This way it is an amazing product!
Vicks VapoRub contains some essential elements like camphor, menthol, turpentine oil and eucalyptus oil which have number of benefits for your health. It has antiseptic, anti-inflammatory and antimicrobial properties. Eucalyptus oil is an excellent expectorant and turpentine oil offers analgesic properties that make the product an amazing decongestant.
Camphor has anti-inflammatory properties that stimulate the nerve endings to get relieve from pain and itching. Camphor also fights against fungi that cause toenail infections. The menthol present in it has soothing and calming effect.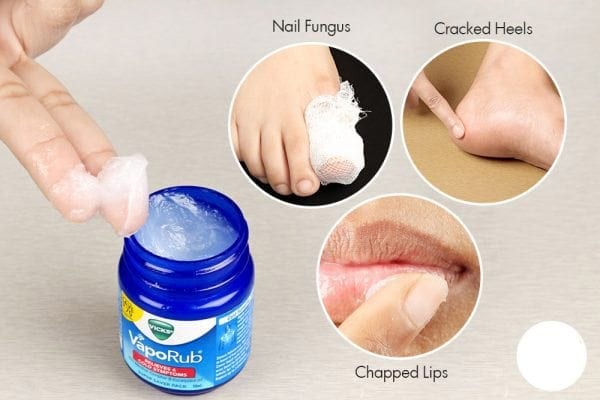 Here are some brilliant health and beauty benefits of Vicks VapoRub.
Chapped Lips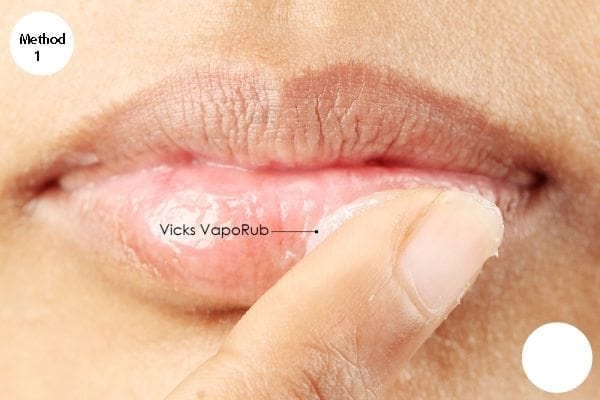 Vicks VapoRub is very effective in treating chapped lips. The menthol in it acts as a natural lip plumper that speeds up healing of your chapped lips. Moreover, the petroleum jelly in it helps to soften your lips naturally.
Single-Step Treatment: Apply a thin coat of Vicks on your chapped lips
Apply a small amount of VapoRub on your dry and chapped lips before going to sleep.
Then Leave it overnight and wash it off in the next morning.
Sore Muscles and Headaches
Vicks VapoRub is very beneficial in getting an instant relief from sore muscle pain and headaches by improving the blood circulation in the body. It is also helpful in get relief from headaches and migraine pain.
Single-Step Treatment: Massage Vicks on the sore muscle or your forehead for headaches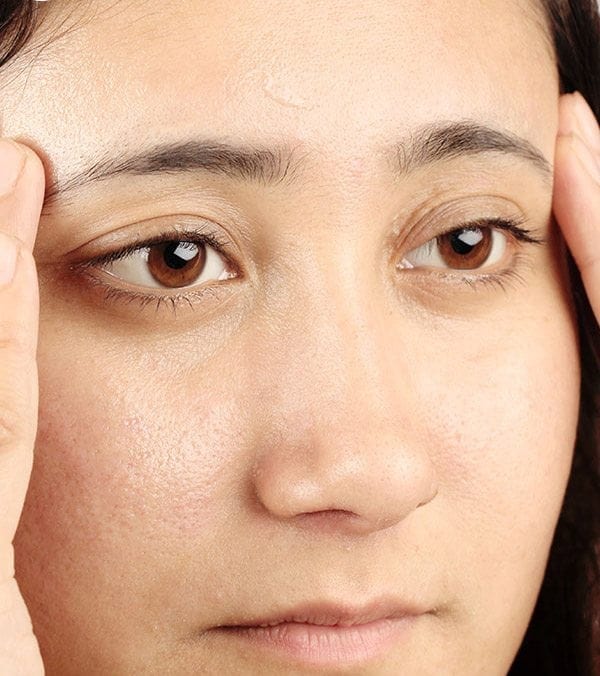 For sore muscles, gently massage with Vicks onto the affected area to get an instant relief from aches and pains. Use this remedy at night before going to sleep so that your overworked muscles relax and then rest.
For a headache, Massage your forehead and temples with Vicks and then lie back, relax and breathe in the vapors. Repeat this procedure every hour until your headache or muscle soreness is gone.
Nail Fungus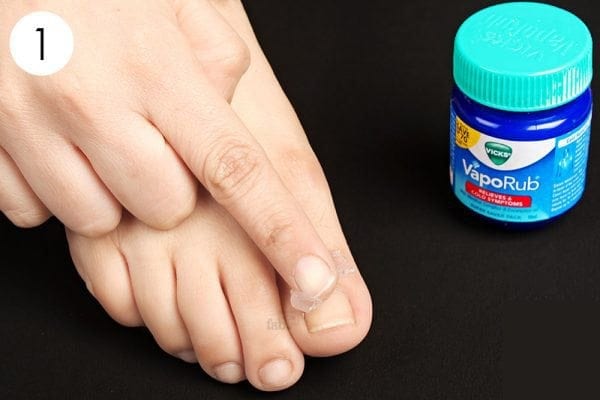 The camphor in it fights against the fungus which causes toenails infection. The thymol compound in it has antiseptic, antimicrobial and antibacterial properties that cease the fungal growth on the nails.
You need:
Vicks VapoRub
Bandage or gauze
Step1. Apply Vicks to the infected nail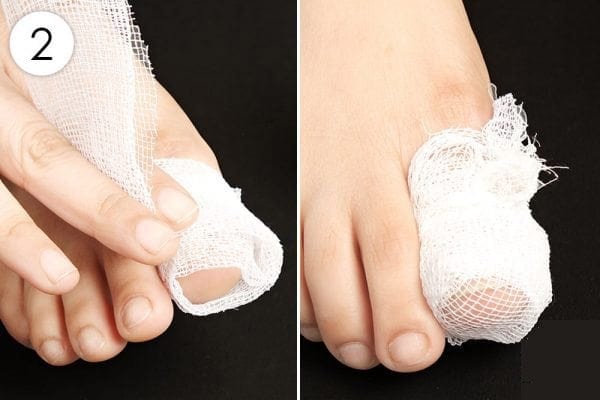 Wash your feet first and then dry it using a towel.
Apply small amount of Vicks over your infected nails. You may also use a cotton swab to cover edge potion of your nail.
Cover your nail with a bandage or gauze and then put on your socks and leave it for 4-5 hours.
Repeat it process 2-3 times a day for up to 3 months.
Cracked Heels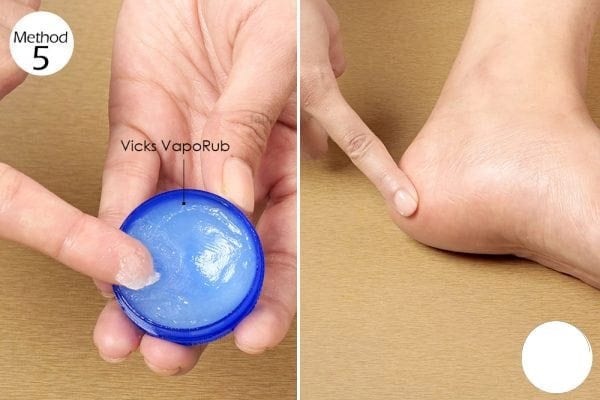 Vicks VapoRub is an effective ingredient to keep your heels soft, smooth and healthy. It contains certain essential elements such as menthol, camphor, turpentine and eucalyptus oils which act as natural emollients to trap and lock moisture into the skin, thus keeping your heels softer and smoother.
Single-Step Treatment: Apply Vicks on your cracked heels and leave overnight
Gently massage Vicks VapoRub on your cracked heels for 5 minutes.
Then put on socks and leave it overnight.
In the next morning put off your socks and wash it off with lukewarm water.
Grab a pumice stone to exfoliate the softened skin.
Moisturize it with coconut oil.
Repeat this process every night for 2 weeks to heal your heels completely.