Doing your make up is not an easy task, there is a certain amount of expertise which is required. Many of us don't have the skill, which is completely natural, but that is when we come to the rescue with some easy hacks and trick which will make your job far too easy. Here below are ten of such amazing hacks compiled for you which will successfully render the makeup worth the turning heads! Make sure to incorporate in your makeup routine!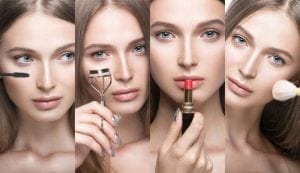 1. REVIVE YOUR MASCARA.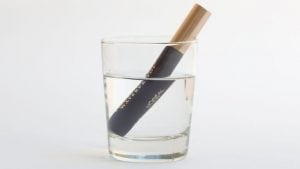 It is best suggested to use mascara before three months of opening. In this time, sometimes we find that it has dried out and then we have to dispose it off, not anymore. It tends to dry up which is quite natural. All you have to do is heat up some water and place your mascara in it. Wait for 5 to 10 minutes and your mascara is better than ever!
2. USING FAKE LASHES.
Well, this trick can be applied to any of the eye make up. Basically, some of us find it difficult to place the false lash in the right position looking straight into the mirror. You can use a trick, place the mirror and look downwards on it. This will easily help you out in placing it at the right place.
3. LOOSE CURLS VS TIGHT CURLS:
Don't we all love perfect curls, and the amount of efforts we put in is worth the hustle. But also, the way we hold the curling wand can have a major impact on the curls. For those who wish to have loose curls, hold the wand horizontally (perpendicular to your body) . And for the tight curls, hold the wand vertically( Parallel to your body).
4. FIX A BROKEN LIPSTICK.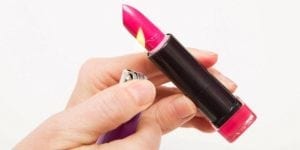 You no longer need to dishearten when you break a lipstick next time, you can easily fix it with this simple hack. Just place the broken stick back with the remaining portion and heat it where it was broken. Make sure you don't bring the flame too close, keep it at a distance. The bullet should be left to set for a minute or two, and you are good to go!
5. SHAVING FOAM FOR FOUNDATION STAIN.
We can easily get rid of the foundation stain without much ado. All you have to do is apply shaving cream on the affected area and wash it off in the washing machine.
6.BLOW-DRY FOR VOLUME.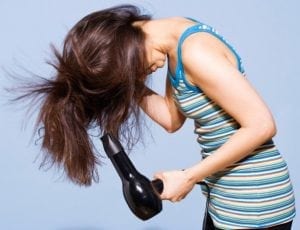 Here is a simple way to add volume to your hair, blow dry your hair with your hair flipped upside down. This will boost up the volume of your hair.
7. FOR INSTANT HAIR VOLUME.
Here is another amazing hack to add volume to your hair, just reverse your hair washing routine. Apply your conditioner first, leave it on for some time, then wash it off and apply shampoo. When you completely wash off the shampoo and dry your hair, you will notice how bulky the look now, and then you can thank us.
8. STAINED MASCARA.
Most of the girls who are no pro at the make up game and mostly end up getting mascara stains around their eyes, lend thou ears. Whenever you face such a problem, instead of trying to get the stain off and messing it up even more, just let it dry. Once it is dry, use a Q- tip to scrap it off rather neatly.
9. COAT LASHES WITH LINER.
If you don't want to use mascara one day, you can use an eye liner too at its place. All you have to do is apply it in the same way and it will leave your lashes voluminous and clump free!
10. FIX YOUR CHAPPED LIPS INSTANTLY!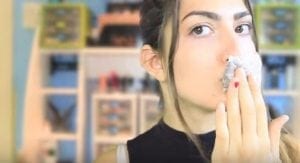 You can easily get rid of chapped lips, just put a green tea bag while it still hot, not too hot, on your lips and let it be for a minute or two. This will hydrate your lips and make them soft and smooth.
Well, this is all for now. I hope you will use them in your routine and make sure to spread the word! Also, try and let us know how it worked for you in the comment section!