We all want to look beautiful , gorgeous and classy. But only few carry themselves this way. One needs to take care of the slightest probability of error very seriously. And how can you miss those eyes. Eyes are beautiful, but they can be intensified and made even more beautiful by taking care of some points. Applying eyeliner is a major task. For beginners , hands tremble and sometimes they mess it up. But whatsoever, you need to know what shape of eyeliner your eyes need. Embrace your eyes while we enlighten you towards this piece of information.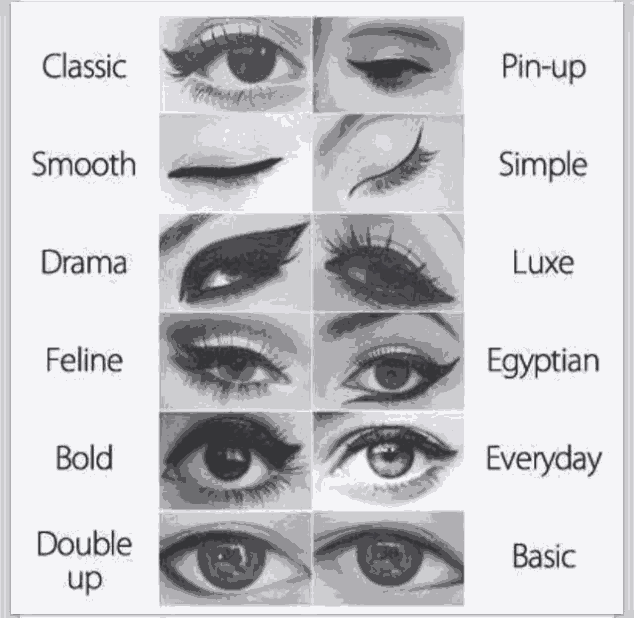 1. Eyeliner for almond eyes
Good news for almond-shaped eye people. You can try pretty much any eyeliner and it will flatter your eyes. To play up the shape, start out with a very thin line in the inner corners, and then build the thickness out once you reach the outer third of your eye. You can either stop there or you can add a slight wing at the end. For an even more dramatic effect, carry the color down along your bottom lash line.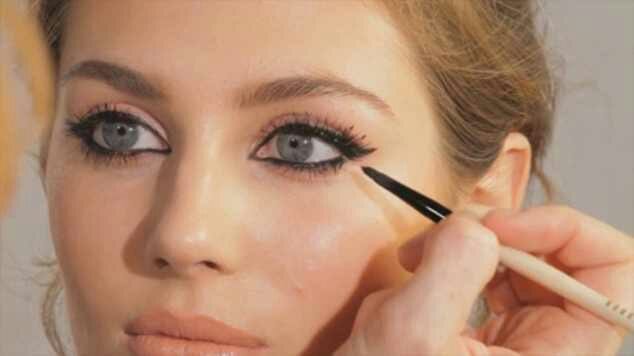 2. Eyeliner for hooded eyes
When doing eyeliner for hooded and monolid eyes, be sure to get the liner right into the base of your lash line. Since your eyelid is hooded, you can make the liner as thick as you want as thin lines are difficult to see when your eyes are open. If you're going for a cat eye, a thick, elongated wing will give your eyes the most shape and definition. Or you can make your eyes look rounder by making the liner thicker at the center of your eyes, and thinner at the corners. This creates the illusion of an eye that's more curved. Just skip bottom eyeliner, which can close off your eyes, making them look smaller.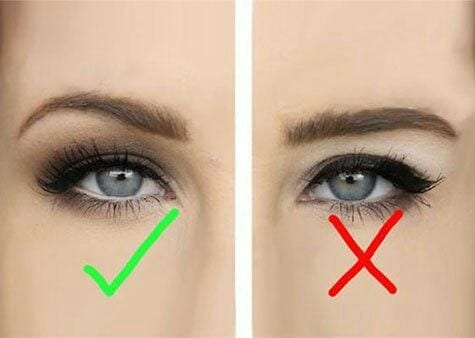 3. Eyeliner for down turned eyes
With eyeliner for down turned eyes, it's all about keeping them lifted. Brighten the inner corners with a light-colored shimmery pencil and leave the lower lash line bare. Focus your efforts on the top lash line, starting directly below the highest point of your arch. A slightly upward flick of liner at the outer corners will open up down turned eyes.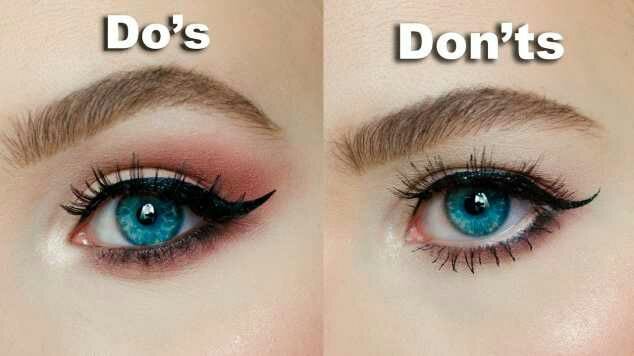 4. Eyeliner for round eyes
When it comes to eyeliner for round eyes, your application should be about elongating the eyes into a more exotic shape. Line the upper lash line and play up the outer corners with either a long, extended wing or by smudging dark liner into both the upper and lower lash lines.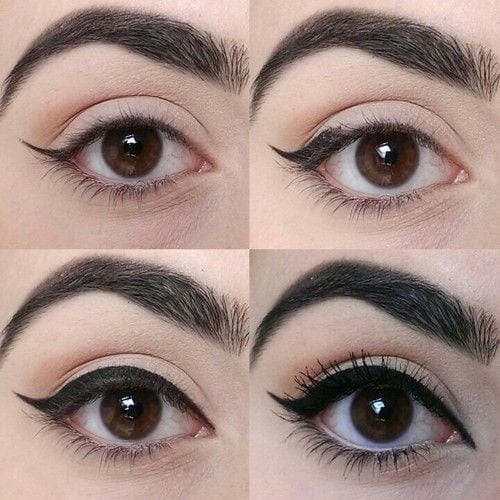 5. Eyeliner for all eye shapes
If you're still confused, go for this. The options are endless for eyeliner for all eye shapes. If your basic skills with an eye pencil or eyeliner brush could use a little improvement (aka your ability to get the line straight is lacking), try the connect-the-dots method or smudging the liner out for a smokey shadow look. Just dot the liner as close to your lash line as possible, and then blend the dots together to create one smooth stroke. You'll get a straight line with this technique, regardless of your eye shape.