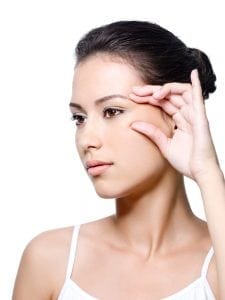 While people knew wrinkles and grown up with wrinkled, older people around them, the formation and manifestation of these skin imperfections can stir up any regular skincare routine. Panic in the mirror just because — but, then again, wrinkles may not be the real issue but, people's inherent fears about aging in general.
Living With An Eye Wrinkle
 Sooner than later, everybody gets it but, we get it, you don't want to be the first person among your peers to get it.  Relax because this skin challenge, too, shall be won.  Listed below are ten tips on how to remove wrinkles you better care about to know
1. Get started on an anti-aging regimen.
That wrinkle that has started to introduce itself to you won't be going anywhere anytime soon. While you two get better acquainted, you should take that as a sign that you now need to be on an anti-aging skincare routine. No, it isn't as simple as spotting products that read "anti-aging" or, "anti-wrinkle" on the labels. It's about time you know what's good for your mature skin beginning with these ten tips.
2. Exfoliate regularly.
If you have been religiously exfoliating, re-evaluate if you should change your exfoliating practices. Perhaps you need to exfoliate more frequently or, perform it with a different product? It all boils down to what your skin can take and what kind of treatment it needs.
3. Ice and massage your eye area.
If you have an eye mask that you can freeze, by all means, use it. You can also opt for a more nutrient-rich treatment by freezing two slices of cucumbers then put these on your eyes. Leave on to relax your eyes and open up constricted veins. This technique instantly improves blood and nutrient circulation around your eye area to enliven both eyes.  Follow through with a massage, preferably with a ball roller tip.
4. Use an eye cream.
If you have been using one for some time, re-evaluate if your product is intended for wrinkled, mature skin. If not, it is time to look for a new member of your wrinkle care routine.  You should see other eye creams, like Neocutis, which are multifunctional.  The most important benefits that you require from an eye cream include mechanisms for light exfoliation (alpha and beta hydroxy acids), de-pigmenting ingredients if you need skin lightening, peptides for regeneration, hyaluronic acid for serious rehydration, and retinol for older skin.
Apply glycerin on your wrinkle and notice how far plumped up it can get. Glycerin is a powerful emollient that makes it almost automatically part of any skin cream.
 6. Do not endure dry eyes.
Wrinkles are caused by many things, including habitual squinting and vigorous rubbing that may be caused by tired, dried out eyes.  If you experience this often or, if you are wearing contact lenses, make an eyedropper part of the beauty stash you keep inside your purse.
 7. Apply face mask.
Give your eye skin an instant moisture boost with a face mask. You will find almost any kind of the wide selection of masks available at a Korean beauty bar. Of course, you can always choose to mash up your own. Look for ingredients that have hydrating and brightening abilities.
8. Use makeup.
Many women are still intimidated by makeup. Don't be. Makeup is one of the best defense you have in putting your aging skin forward.  Not to mention, it can also be one of the most effective wrinkle-eliminating techniques that you can try.
9.Use DIY devices.
Microdermabrasion, micro-needling and laser light therapies can now be all done from home. These handheld devices work by exfoliating your skin. Try one today.
10. Sign up for a clinic-based skincare program.
If you want more drastic improvements over a relatively shorter period of time, schedule for a session with your skin specialist. Some of your viable options include peels, microdermabrasion, Intense Pulsed Light Therapy, and Radio Frequency Skin Tightening. Make sure you have a good understanding of the pros and cons before signing up for any treatment.
 Conclusion
 Sally Field, "I don't want to look old and worn, but what can you do?" So, just learn to relax and give yourself a sufficient good night's sleep. After all, you do need to sleep off those wrinkles so that you can see a better version of your skin when morning comes.
Reference :
http://159.89.94.108/