Rosewater is no less than a blessing to us! For an instant glow on your skin, you can always turn to rosewater and its multiple utilities. This will not only remove dirt from your skin but also make it brighter and smoother. Just splash rosewater onto your face or mix other ingredients in it for its maximum effect. A natural, glowing look is achieved. Actually, rosewater acts as a toner to even out your skin and gives a shining glow.
1. Rosewater Benefits!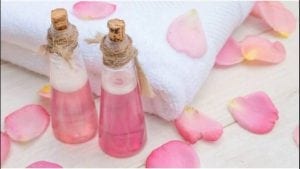 Rose water is the most primitive form of skin toner that our mothers and grannies too have been using. It has been used as a beauty ingredient for ages.
It helps in restoring of ph balance in our skin.
Rosewater has got anti-inflammatory properties which makes the redness and itchiness of our skin go away!
Rose water prevents the formation of any girls' nemesis, acne. Rose water removes dirt from the pores and clears your skin to the depth.
Using rosewater will hydrate your skin and provide instant coolness to it.
It provides instant freshness with an aroma that will definitely enhance your mood and you will be stress relieved.
It has got anti-bacterial properties which provide action against cuts, wounds, and burns
2. Rosewater as Face cleanser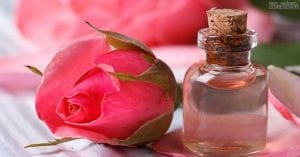 Rose water helps in cleaning the pores and provides a deep action. After a long tiresome day, simply dip a cotton ball in rosewater and rub it in circular motions across your face. Rosewater is really refreshing and it ca be applied any time of the day for any number of times. It can also be used to remove make-up. Easily portable, as it is, you can carry it anywhere in your pocket and use it.
3. Rosewater as a Skin toner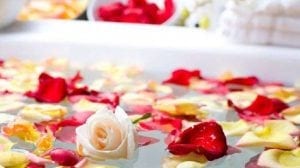 The very essential rosewater can be used as a toner along with camphor. The anti-inflammatory properties of this toner helps reduce pimples and acne formation. You can also use mint water since mint has got anti-bacterial properties also. You can use it on your face and allow it to work its magic! Using this remedy regularly will help you reduce pimple and ache scar. While all this, make sure to keep your skin hydrated using honey and rosewater!
4. Rosewater to treat acne!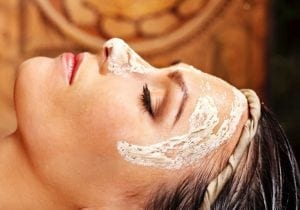 For this, apply a mask using sandalwood and rosewater paste! This pack will help in reducing scar marks and help fade them away! Use 1 tbsp sandalwood powder along with juice of half a lemon and 2-3 tbsp of rosewater and blend it well. Apply this mask and let it sit onto your face for 15-20 minutes. When it is dries, remove it with a wet piece of cloth and rinse it well.
You can also use fuller's earth powder instead of sandalwood. It can help reduce acne and pimple and also will remove tan and make your skin appear lighter.
To work on pimples effectively, you can use sandalwood powder, sandalwood oil, camphor and turmeric powder along with rosewater.
Dab a cotton ball soaked with rosewater on heat rashes to cool them off.
Freeze some rose water on ice tray and use it to relax your skin and prevent skin inflammation.
5. Removes Blemishes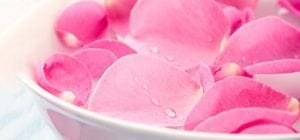 In order to get rid of blemishes on your skin naturally, use rosewater mixed with cucumber juice, sandalwood powder and curd. Blend these well and apply on your face. Allow it to sit for an hour and then rinse it well. After this you will notice that the blemishes caused by acne are starting to get cleared up!
6. Radiant Skin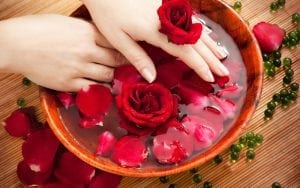 Make it a habit to apply rosewater on your face right at the start of your day. This will provide freshness to your face and in addition to its aroma acting as a mood enhancer. This relaxes your nerves and releases stress.
7. Anti Tan Mask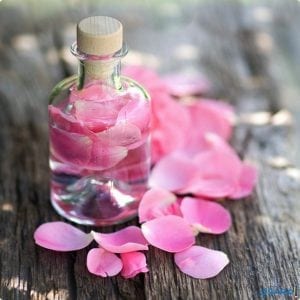 Rosewater is very effective in removing skin tan and lightening your skin all very naturally. Use rosewater along with pulp of 1 tomato and blend these well. Apply it on your face and let it stay for 10 minutes. Rinse off this mask and you will notice an instant glow!
Add Basil leaves along with rosewater and application of this mixture will help in reducing sun tan. Wipe your face with this solution few times a day and keep this in refrigerator.
Another mask can be used for removing sun burn and inflammation. Use mashed up banana and 2 tbsp rosewater. Apply it on the face and let it sit for 15 minutes, rinse it well and then you will notice a brighter skintone!
8. Make your lips Pinker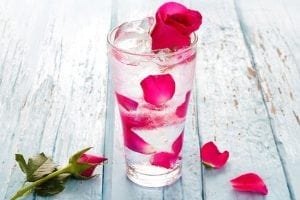 Along with so many utilities, one such is on your lips! Use a dried up and blended beetroot along with rosewater and apply it on your lips. This will cause depigmentation on your skin and retain the pink and softness. You can also use glycerine to get rid of the dead skin cells.
9. Get rid of Dandruff.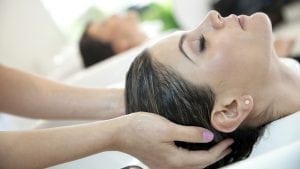 Use rosewater to remove the unwanted dandruff off your scalp. Use fenugreek seeds and grind them with glycerine and rosewater. Apply this on your scalp and let it sit for 30-40 minutes. The vitamins in rosewater will help you to get rid of dandruff and hydrate your scalp and cool it down a notch.
10. Skin Moisturizer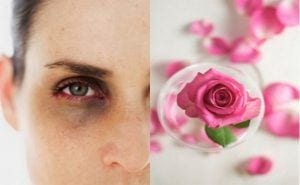 There are so many moisturizers in the market but not all of them can provide long-lasting and effective moisture to our skin. Using rosewater for the purpose would nourish your skin to the core and leave it soft. Blend it with body lotion and apply it. It will leave your skin moisturized and radiant!